I've been to a lot of coffee houses, but Pavement Coffee House is one of my absolute favorites! From the interior, to the food, to the coffee, to the vibes, Pavement Coffee House will give you an incredible experience.
The exterior of the coffee house requires you to walk a few stairs down and is slightly hidden among all of the buildings in Boston. It is a beautiful brick building that features the name of the coffee house and the logo.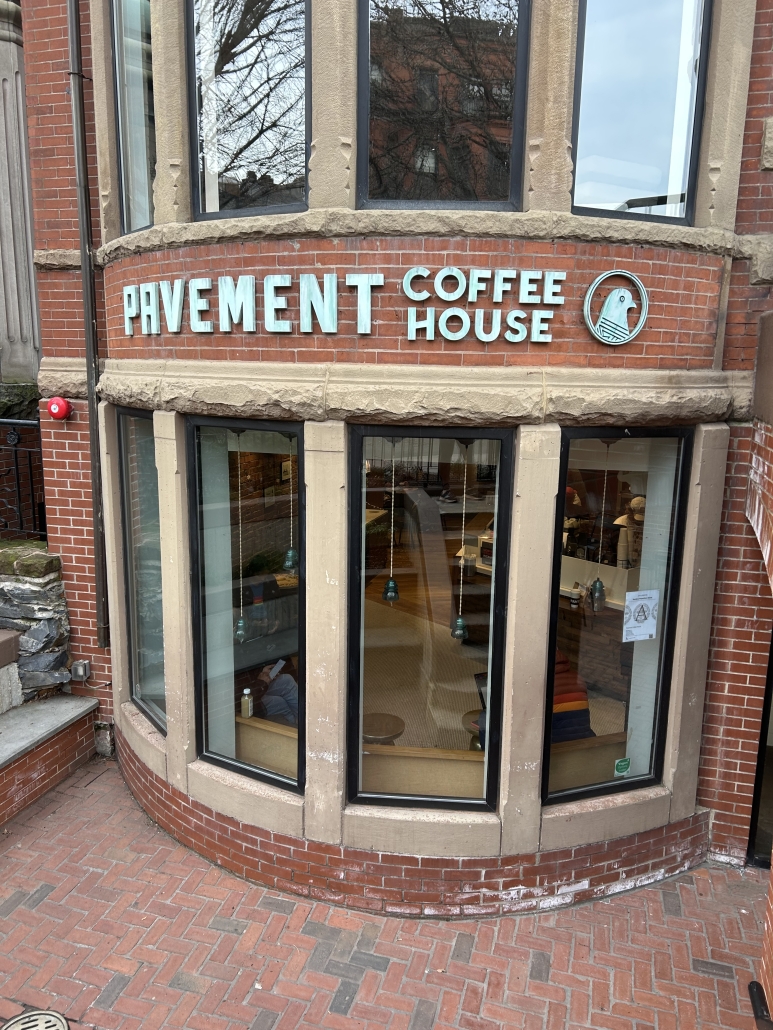 The interior of Pavement Coffee House is absolutely charming. My favorite part of the interior is the beautifully vibrant tables which give the house so much personality. I also love the brick interior which makes the coffee house feel very homey and personal. You could just curl up with a good book here for hours, and feel right at home. There are a few paintings, but I definitely think that there could be some more wall art. Additionally, although there are a good amount of tables, during popular hours there may be limited seating.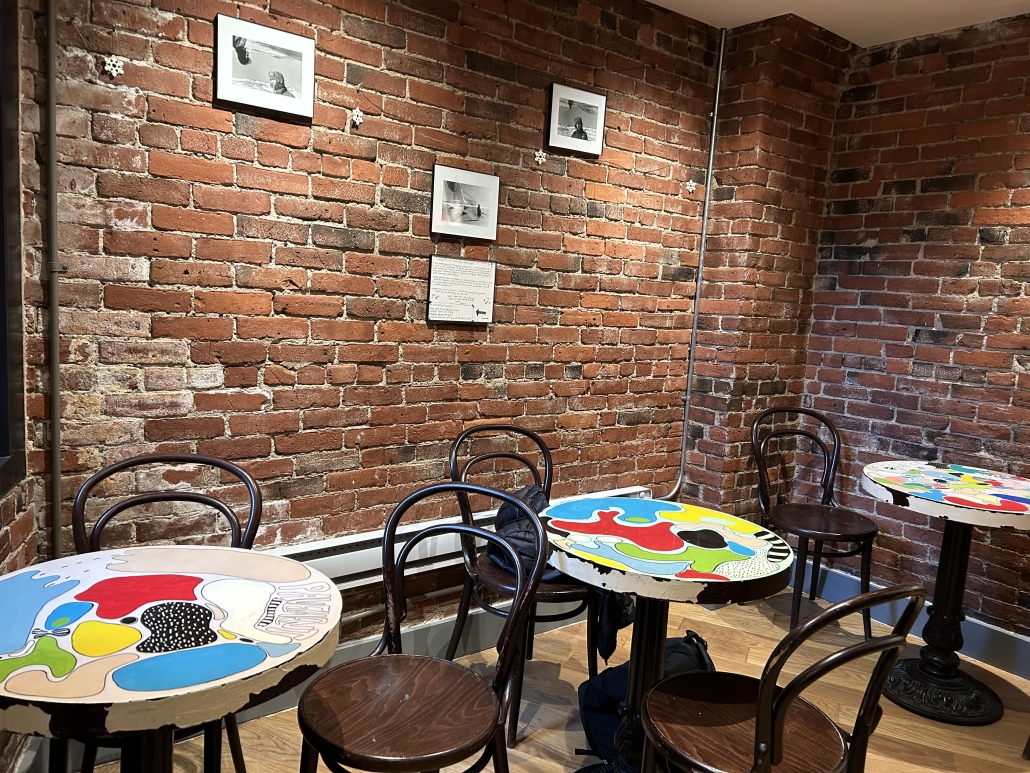 Pavement Coffee House is known for their bagels – they are absolutely incredible. Not only are these bagels a great breakfast, but bagel sandwiches are also offered for a complete meal. The bagel feature gives the coffee house tons of uniqueness and who doesn't love a good bagel?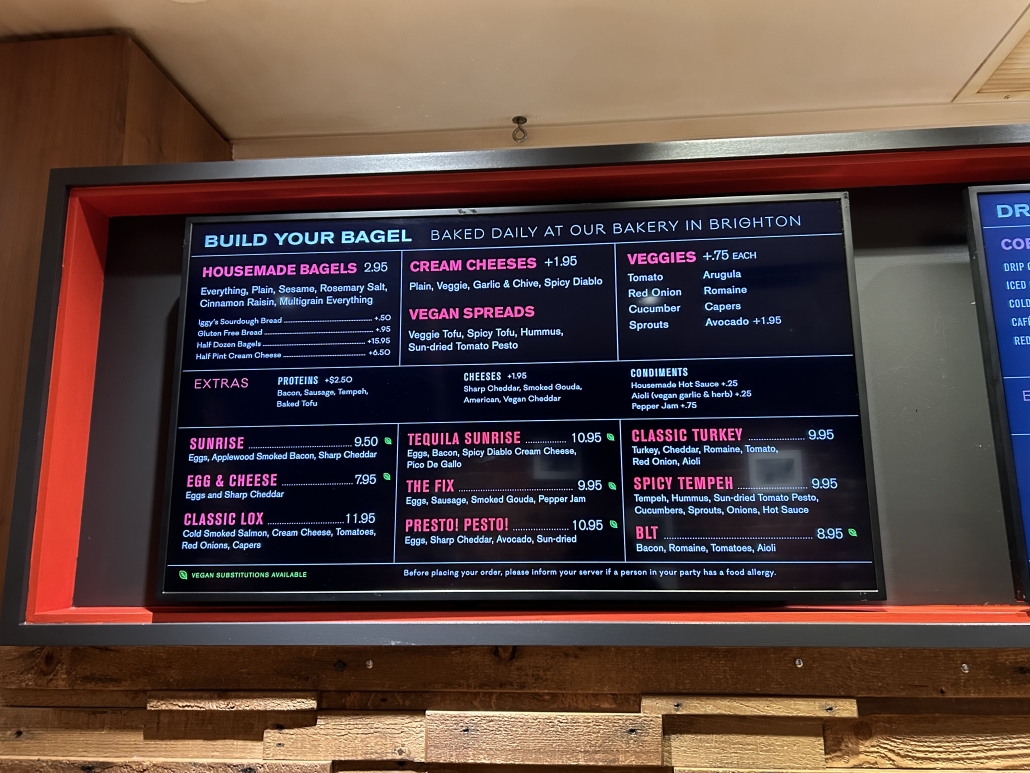 Alright now for the star of the show – the drinks! Pavement Coffee house focuses mostly on traditional coffee drinks, while having a more limited amount of special and complex drinks. This allows them to really perfect the basics, and if your looking for an incredible simple cappuccino, this is the place!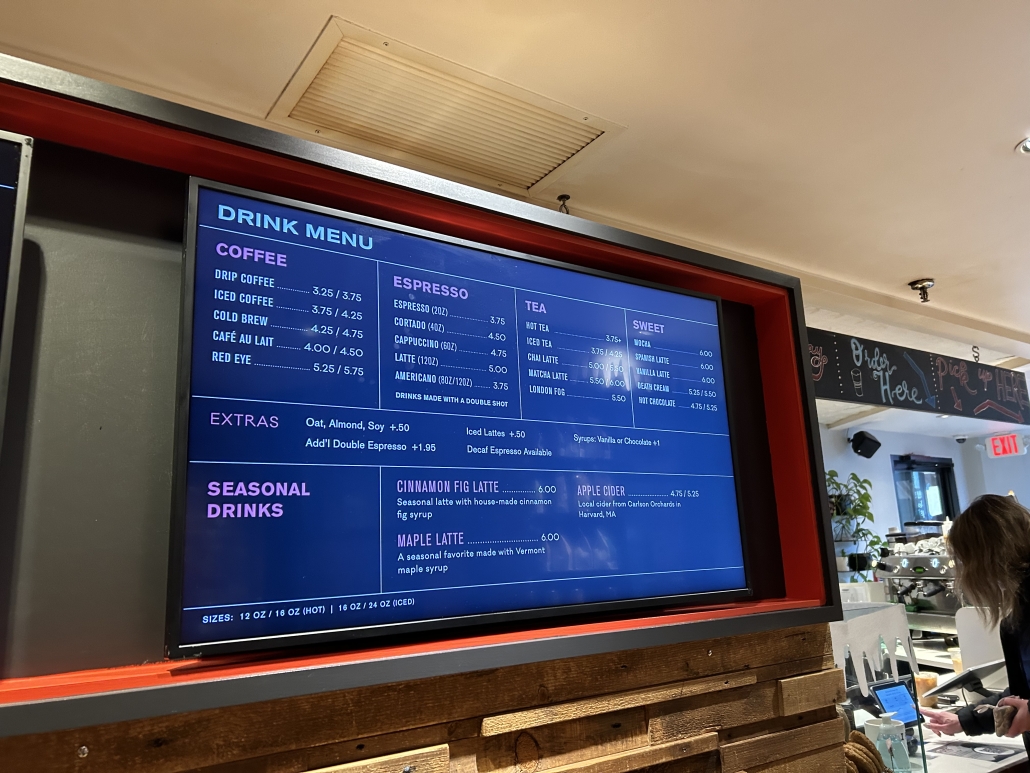 To start off with what I ordered, I went for a classic blueberry muffin. What is better with a coffee than a soft and sweet muffin? I loved the muffin – it had the perfect ratio of blueberries and was soft with a slightly crunchy exterior.
Next I went with a classic cappuccino. Look how cute the heart foam is! This cappuccino was roasted perfectly! It was strong and flavorful without being burnt and bitter. I am a bit of a coffee critic, but I had absolutely no complaints with this coffee. There also was the perfect ratio of cream to coffee. Oftentimes I've noticed that coffee shops skimp on the coffee and put too much cream, but this coffee was made perfectly.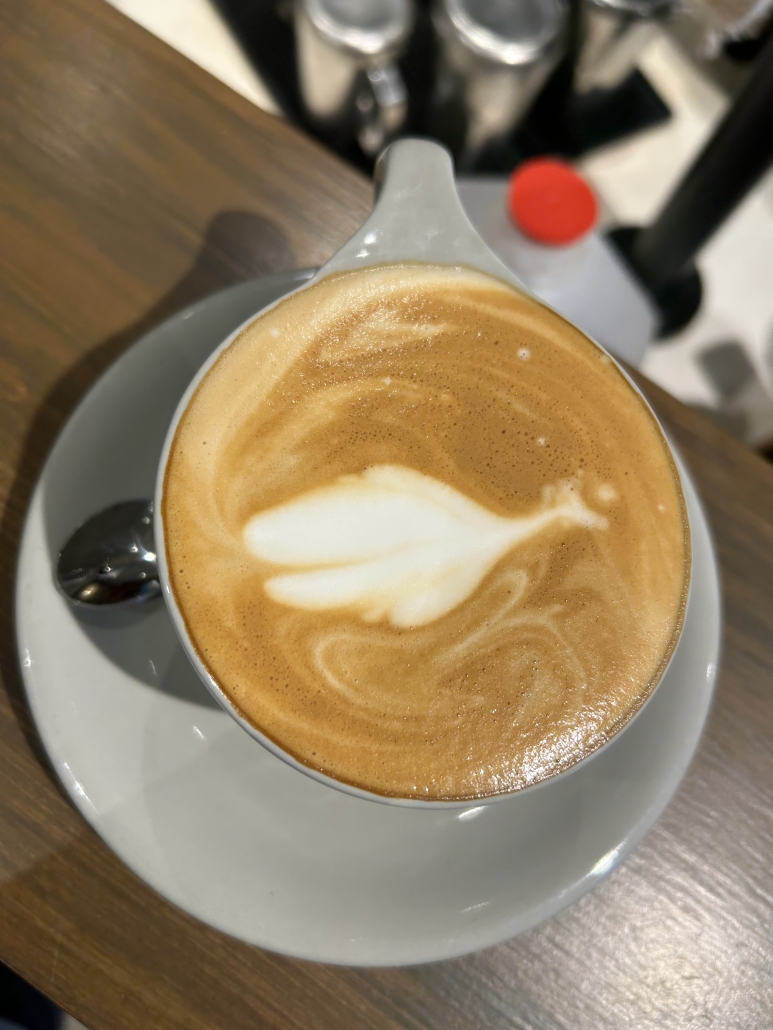 Let me just tell you, the coffee paired so perfectly with the blueberry muffin. If you get the chance to visit pavement coffee house, you have to try this combo.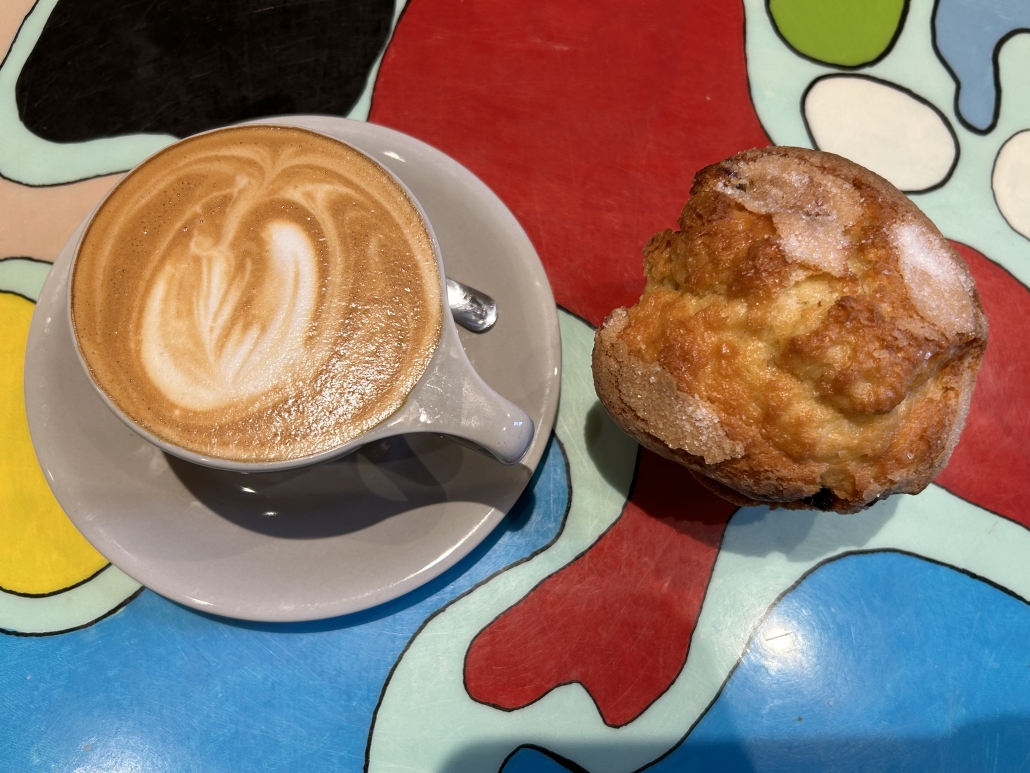 Also, if you are looking for artsy pictures of your coffee, the colorful tables make for the perfect photos:)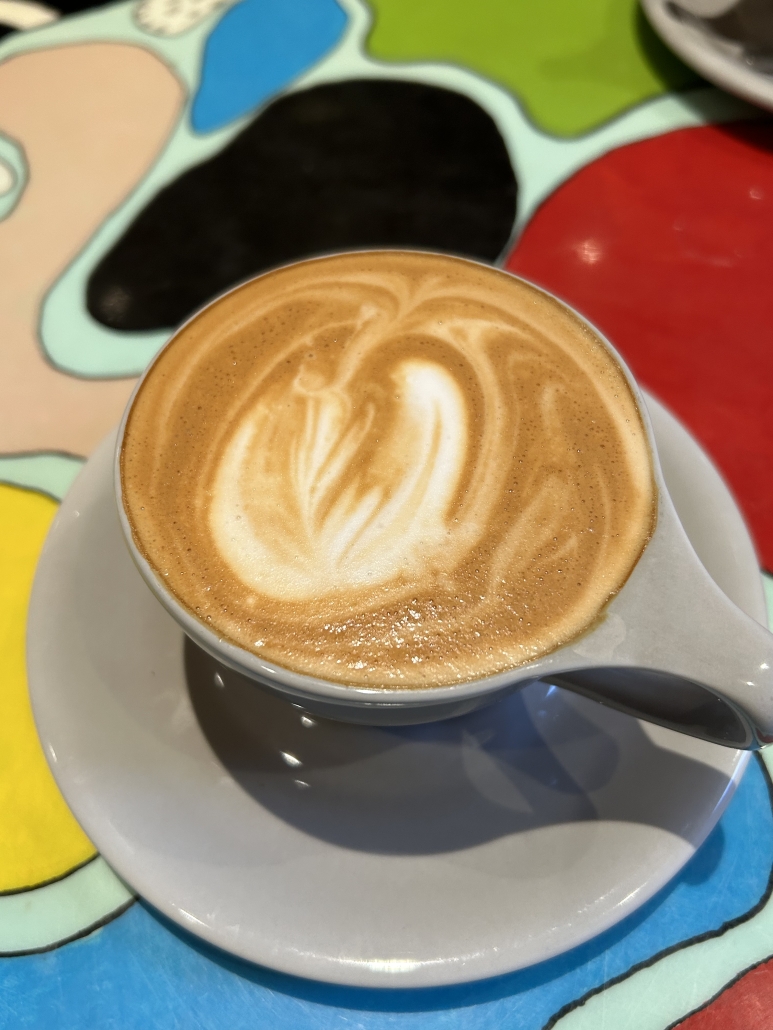 Lastly, I ordered the Classic Turkey on an everything bagel. This sandwich was DELICIOUS. The everything bagel was soft with a crunchy exterior, and you could tell how fresh it was. The tomatoes and lettuce were fresh and crispy, and the turkey and cheese were great. The bagel sandwich was quite filling though, so I definitely recommend splitting one.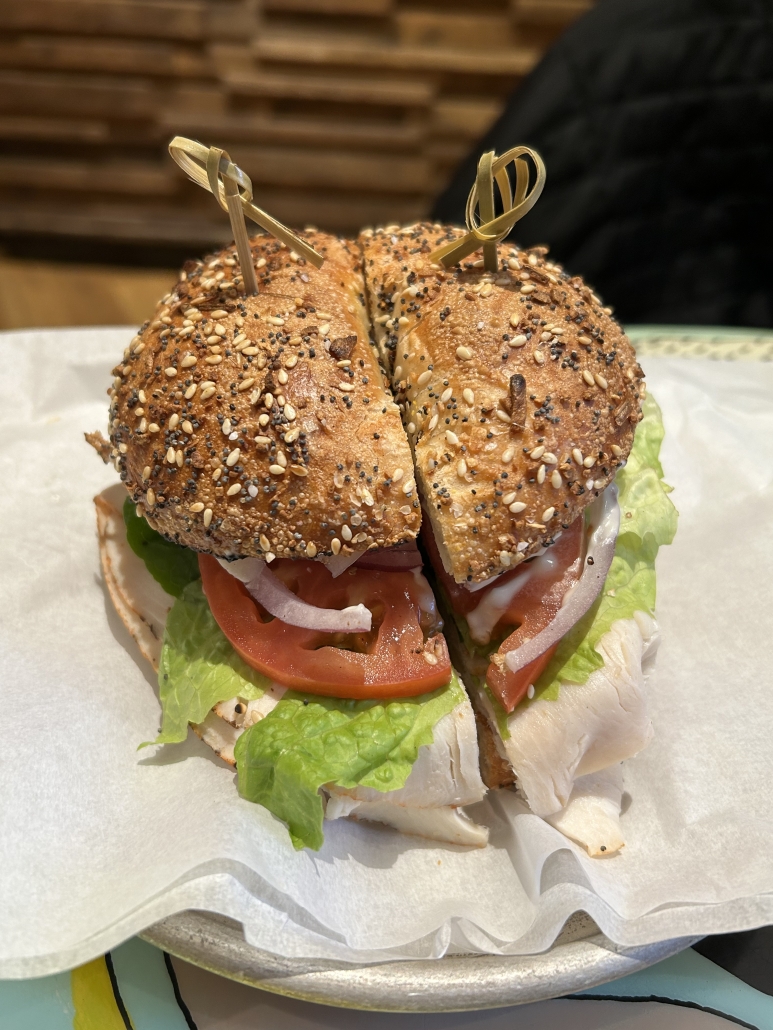 Pavement Coffee House Allergies
Lastly, as someone with nut allergies, Pavement Coffee House accommodated for them great. The staff were all very friendly and had a protocol for all allergies.
If you ever are in Boston, Pavement Coffee House is a must go to.
https://vibrantguide.com/wp-content/uploads/2023/01/8045F204-EEAE-43A0-9846-093900987BE3-scaled.jpeg
2560
1920
Anna
https://vibrantguide.com/wp-content/uploads/2019/01/logo2.png
Anna
2023-04-09 20:17:46
2023-04-09 20:17:46
Pavement Coffee House