Blueberry Acai Coconut Smoothie Bowl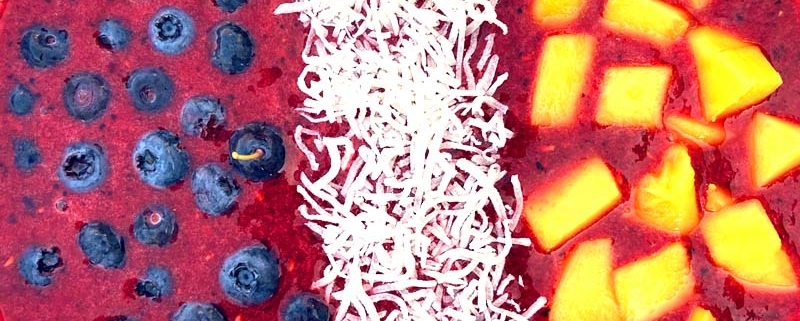 This easy blueberry acai coconut smoothie bowl is not only refreshing, but healthy, filling, and delicious! It can be eaten as a breakfast, snack, or even dessert, and is so bright and cheerful!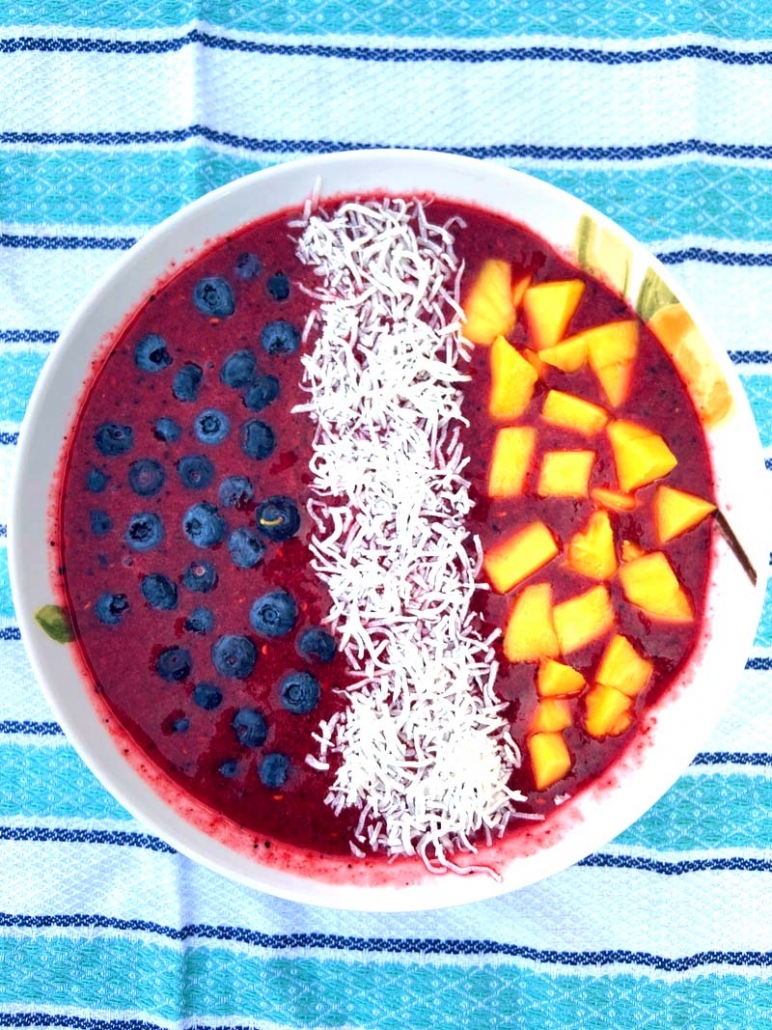 This acai bowl is naturally sweetened, and has tons of health benefits. Acai is a superfood and is loaded with antioxidants. In addition, it is shown to reduce your risk of cancer. The berries and banana in the smoothie have tons of vitamin and fiber, and the coconut flakes are loaded with antioxidants. The blueberries are another superfood that help protect your body against a variety of diseases. All in all, this smoothie bowl is packed with healthy ingredients!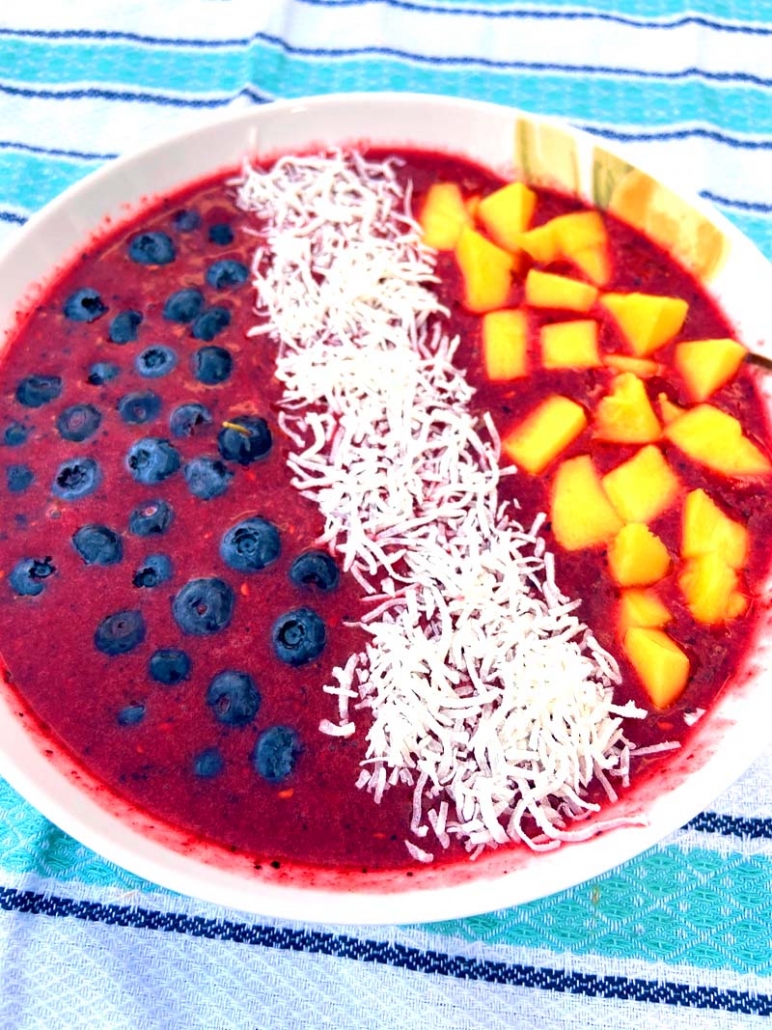 This smoothie bowl will actually keep you full. Oftentimes, I drink a smoothie, and then I am more hungry than before I drank it. With this smoothie bowl, I am actually full for hours. The acai is very filling, and the ingredients in this smoothie provide you with long lasting energy. This smoothie bowl is perfect for when you won't have the opportunity to eat in the next few hours.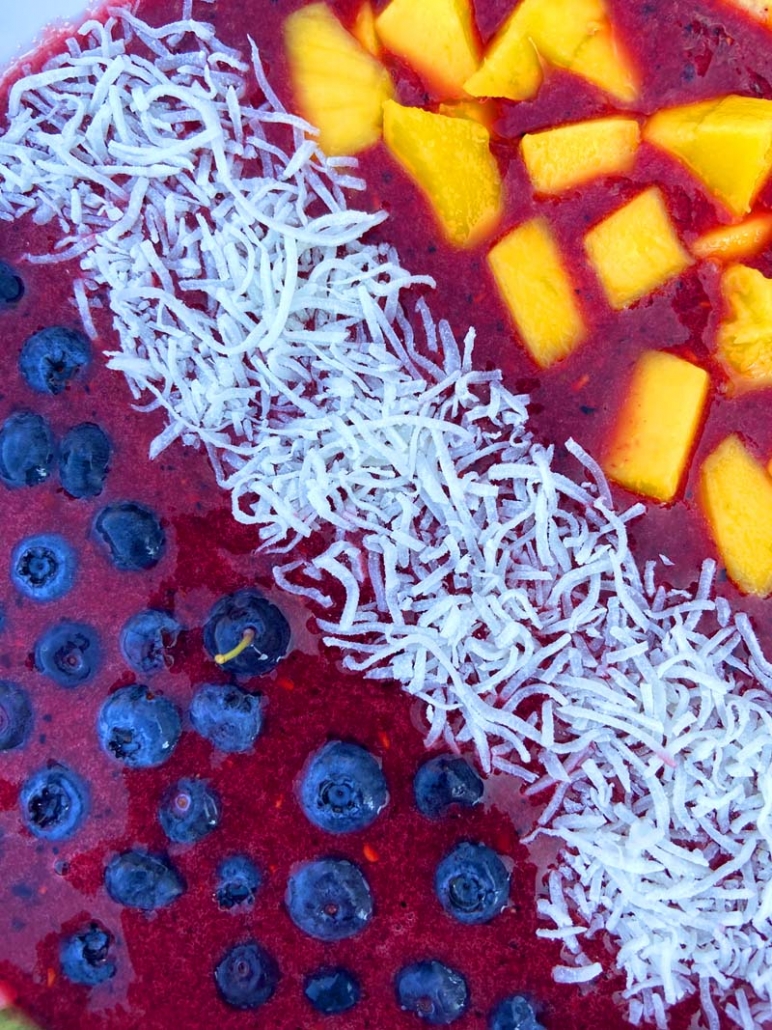 This blueberry acai coconut bowl can be eaten at any time throughout the day! It can be eaten as a breakfast in the morning, a midday snack, or even a dessert after dinner! It's natural sweetness makes it so tasty and delicious, so any time of the day you will be obsessed with it!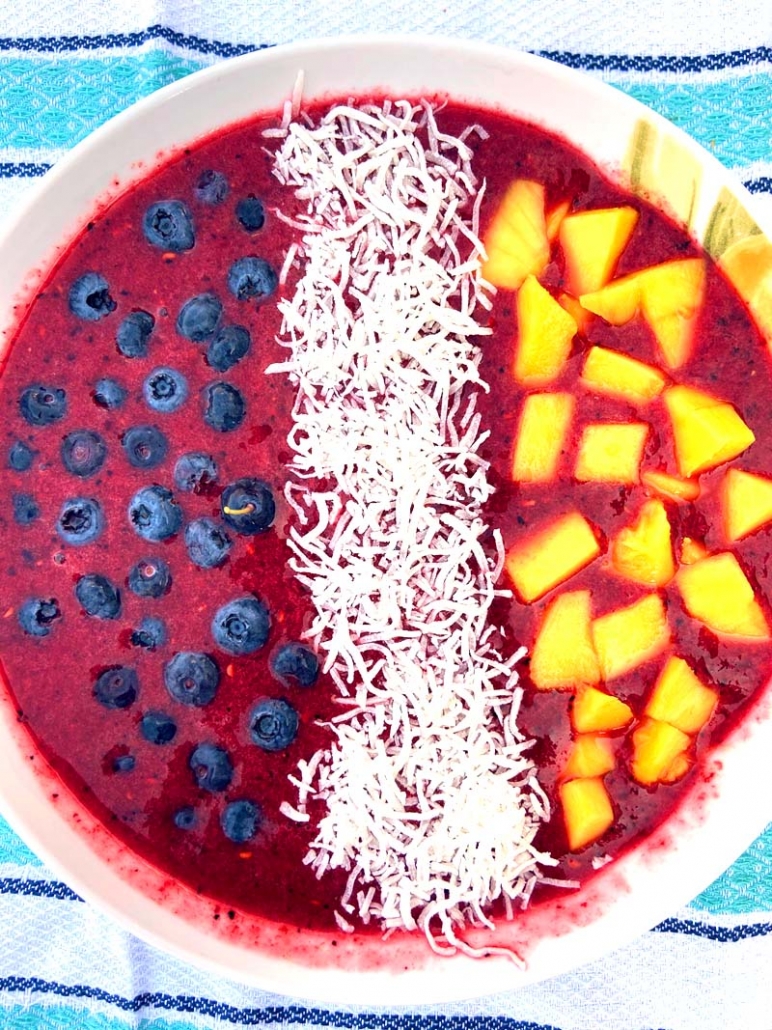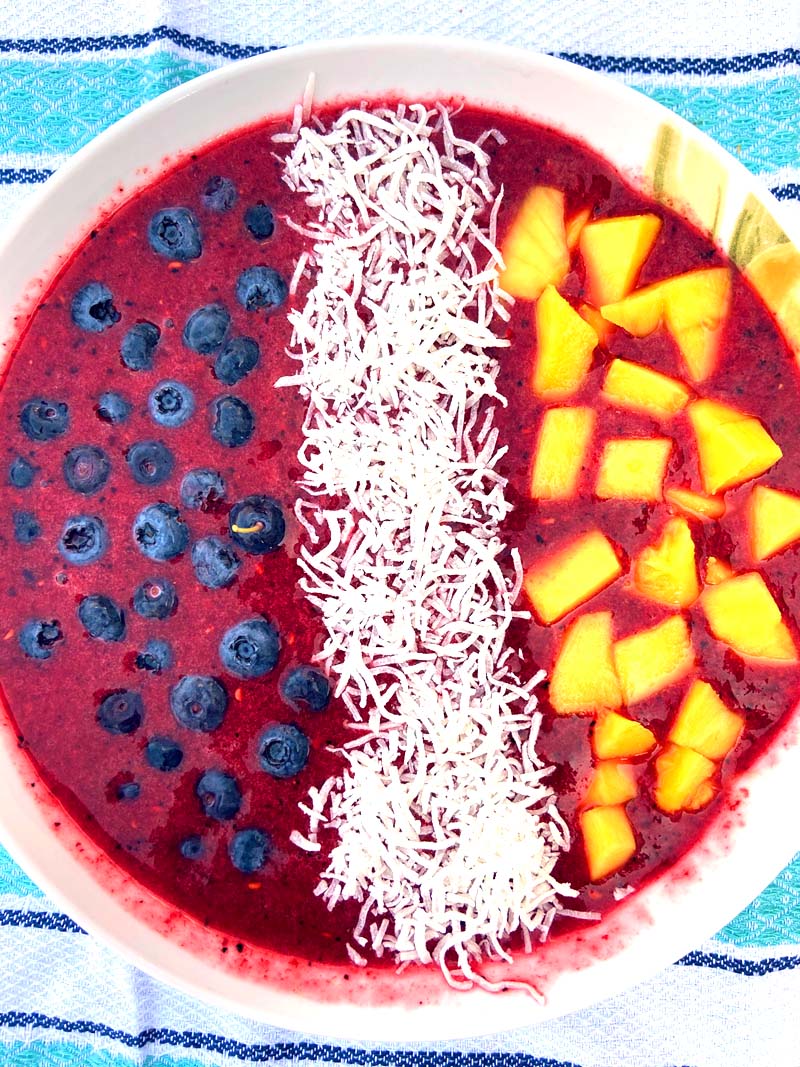 This blueberry acai coconut bowl is so so tasty! While eating this smoothie bowl, I kept finding it hard to believe that it was so healthy! This bowl tastes like a tropical vacation all in one smoothie! With refreshing coconut, juicy mango, and sweet blueberries, you will not want to put this smoothie bowl down!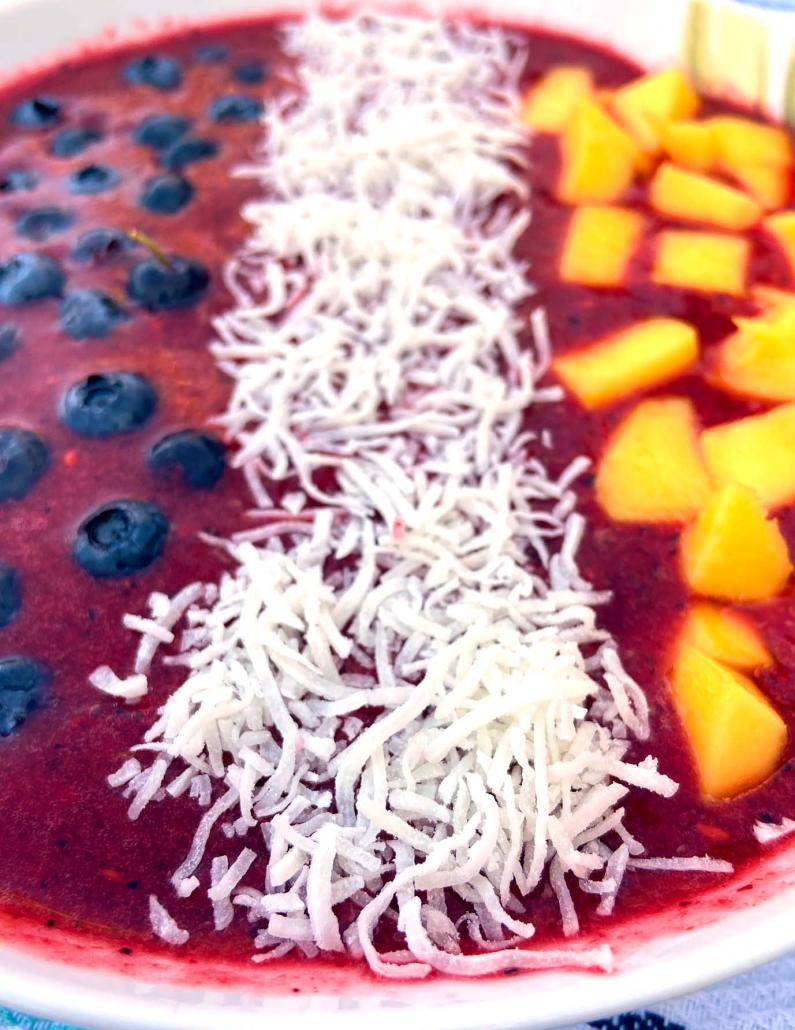 In addition to being delicious and healthy, anyone can make this easy smoothie bowl! Many smoothie bowls are complicated and require crazy ingredients! This smoothie bowl has simple ingredients and anyone can make it, regardless of experience. All you have to do is mix 3 ingredients in a blender and then top it with a few other ingredients. Easy!
This smoothie bowl is the absolute perfect recipe to make if your looking for a refreshing, colorful treat! It is so healthy and filling, and will leave you happy and refreshed!
Blueberry Acai Coconut Smoothie Bowl
This colorful smoothie bowl is so refreshing, healthy, filling, and delicious! Bursting with fruity flavors and cheerful colors, you will absolutely love it!
Ingredients
1

cup

frozen berries

1

packet

unsweetened frozen acai

1/2

ripe banana

3

tbsp

fresh blueberries

3

tbsp

diced mango

2

tbsp

shaved coconut

1

tbsp

almond butter

optional
Instructions
In a blender, mix the frozen berries, acai packet, and banana until well blended.

Place the smoothie mixture into a bowl.

In 3 lines, evenly distribute the blueberries, shaved coconut, and diced mango, placing the shaved coconut in the middle.

You can also add in almond butter and seeds to make it even more filling.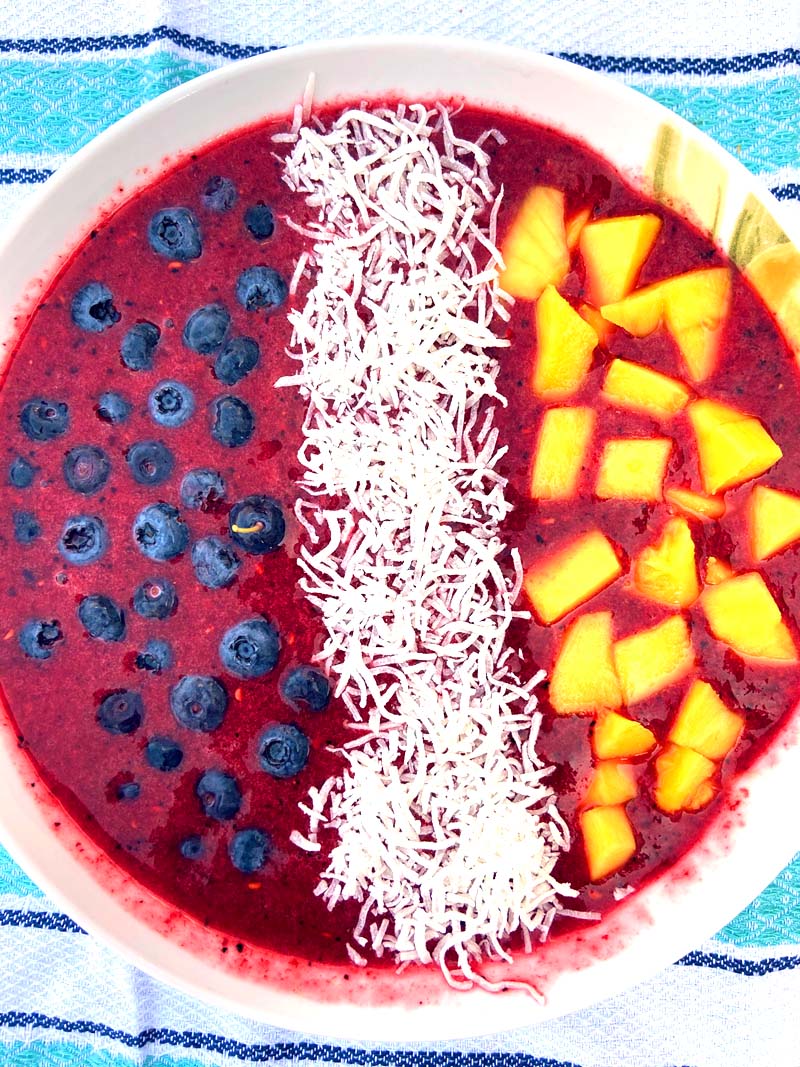 https://vibrantguide.com/wp-content/uploads/2020/04/smoothie_bowl.jpg
1067
800
Anna
https://vibrantguide.com/wp-content/uploads/2019/01/logo2.png
Anna
2020-04-13 22:09:02
2020-04-13 22:09:02
Blueberry Acai Coconut Smoothie Bowl