English Muffin Avocado Toast Recipe With Egg

This english muffin avocado toast with egg is the absolute perfect brunch and will leave you feeling so satisfied! Delicious, healthy, and high in protein you will absolutely love this savory breakfast toast.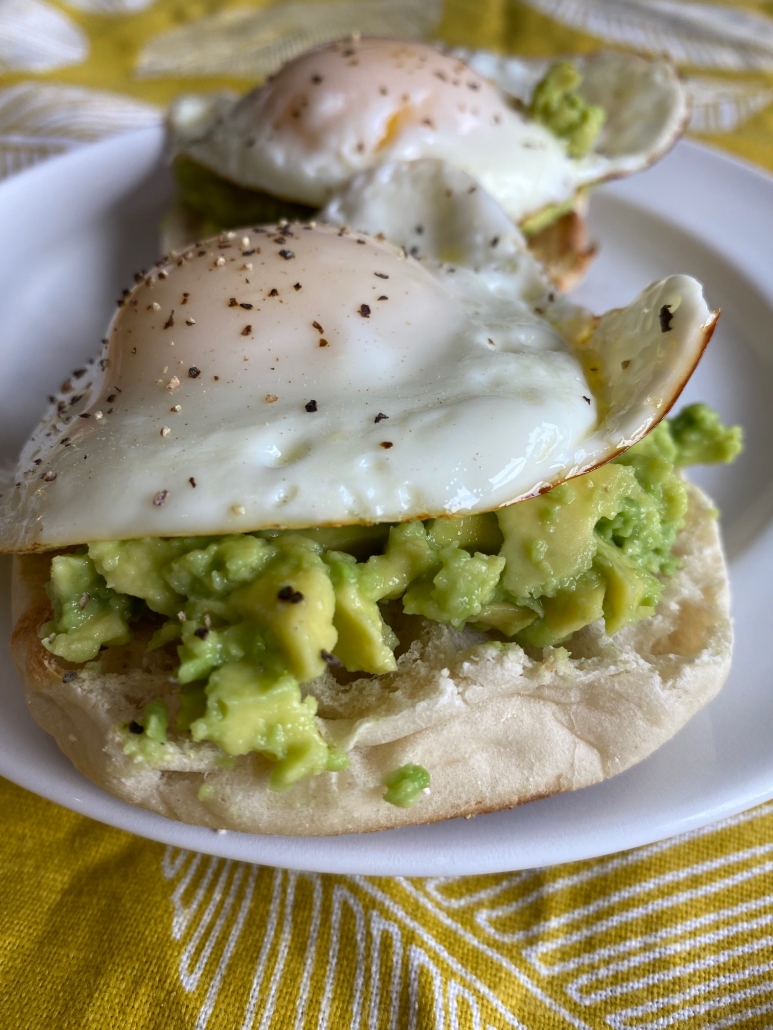 Avocado & Egg On English Muffin
This english muffin avocado toast is so easy and quick to make. All you do is toast the english muffin, mash up avocado, cook 2 eggs, and assemble! Anyone can make this avocado toast with no cooking experience! Having very limited time in the mornings, I am always looking for healthy and fresh breakfasts that leave me feeling full and satisfied and taste delicious! This avocado toast is just that. I can prepare this avocado toast in 10 minutes, and all the ingredients in it are simple and healthy. This is definitely my go-to breakfast and it keeps me full for hours!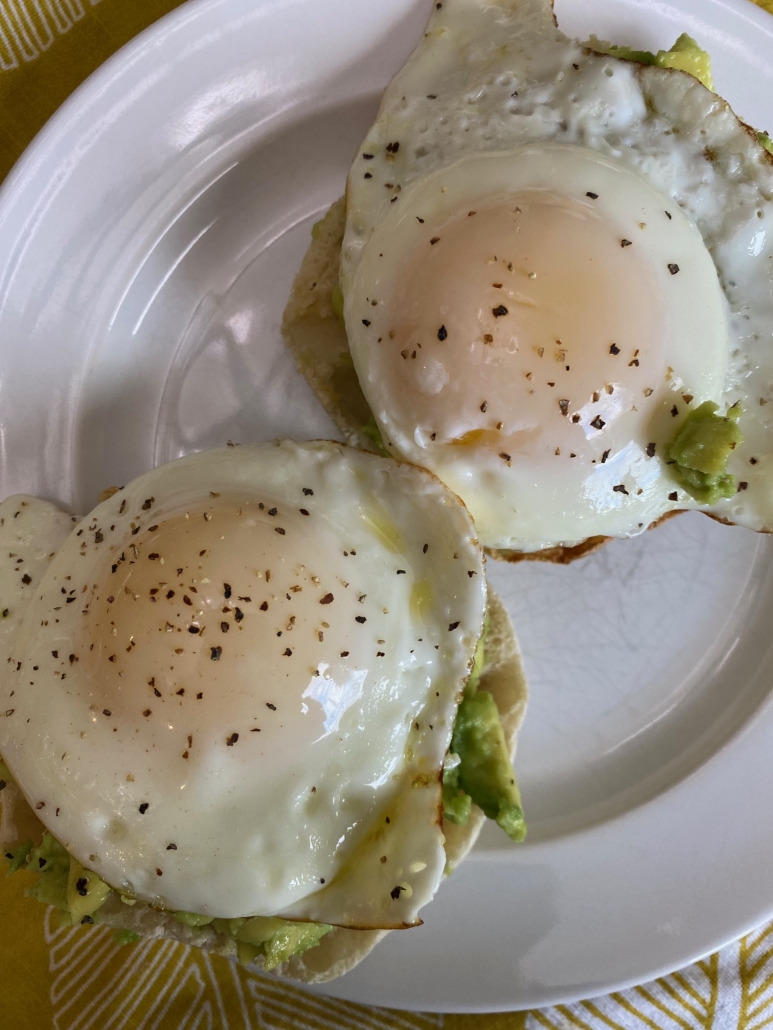 Healthy English Muffin Breakfast
This english muffin avocado toast is so healthy! Avocado is a super food and is filled with healthy fats that will keep you full for hours. The eggs are full of protein that will power you through the morning. The english muffin has carbohydrates that will keep you energized and happy. This avocado toast is so balanced, and will leave you feeling refreshed and ready to start the day. Overall, if you are looking for a fast and easy breakfast I highly recommend making this toast.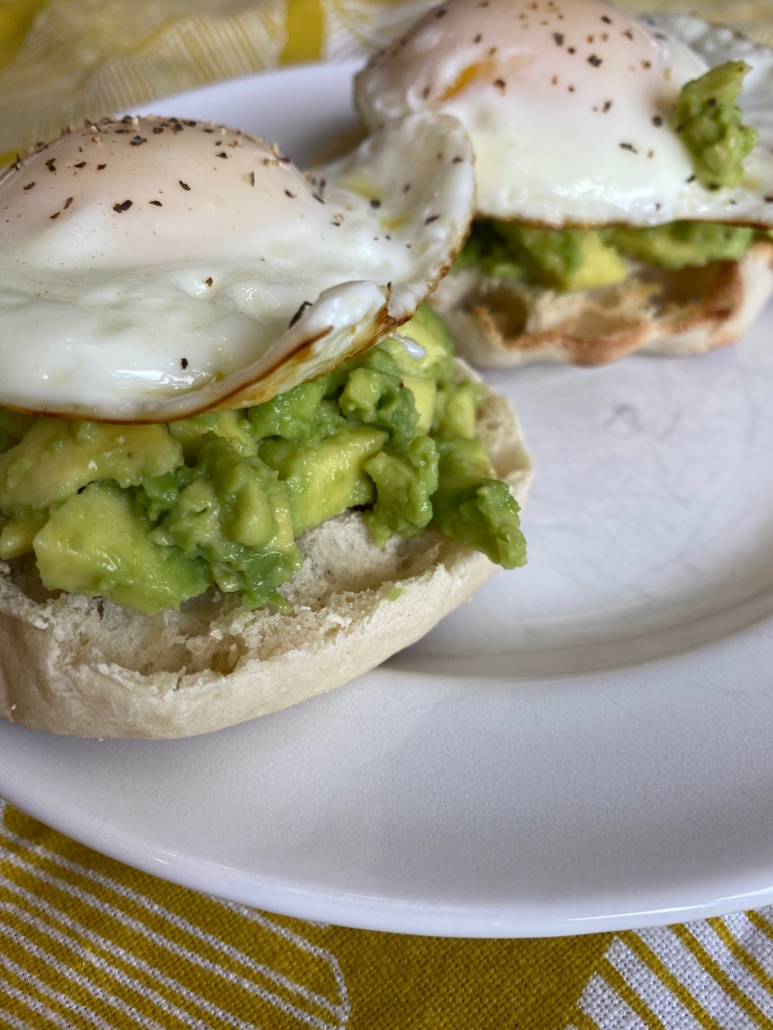 Unique Avocado Toast
The english muffins really make this avocado toast so much better! Most avocado toasts use traditional bread, but the english muffins in these give the avocado toast a warm and toasty touch. The slightly crispy on the outside and soft on the inside texture of the english muffin compliment the avocado and egg so well! You will absolutely love using the english muffin!
English Muffin With Egg + Avocado
English muffin with egg is a classic combination. What happens when you add a modern twist – avocado – to this old standby? Perfection!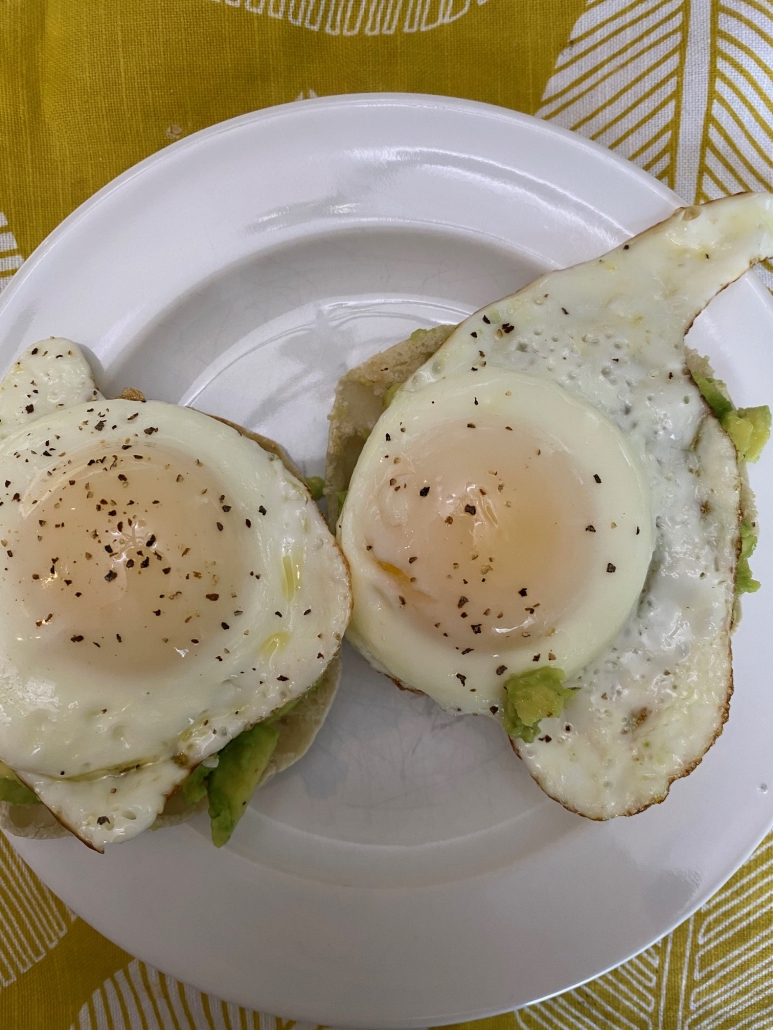 Avocado Toast Variations
There are so many different ways to change up this toast. To make this avocado toast vegan, simply take out the eggs. If you want to add some flavor, you can add onions or tomato to the avocado. In addition, you can add different spices such as chilly powder, garlic powder, and onion powder for extra flavor. You can also melt a piece of cheese onto the english muffin for extra yumminess. I usually melt 1 slice of swiss cheese across the two english muffins and it turns out so gooey and delicious! There are so many different things you can do with this english muffin avocado toast, so don't be afraid to get creative!
English Muffin Avocado Toast FAQ
Here are the answers to common questions people ask about this topic:
Is avocado on bread healthy?
I say absolutely yes! Avocados are extremely healthy, they contain a lot of fiber, heart-healthy unsaturated fats and many vitamins and minerals. Bread can also fit in a healthy diet as we need some carbohydrates, especially considering the fact that avocado is low in carbs. For a healthier version of the bread (or muffins) you can always choose whole-wheat. If you are on a low-carb diet, you can have special low-carb bread – keto bread and muffins are available in most large supermarkets.
Which English muffins are the healthiest?
The healthiest English muffins are whole-wheat ones, as they contain more fiber and nutrients. Whole-wheat muffins also make you feel more full then regular ones.
How do you make avocado toast not soggy?
Avocado toast can get soggy for two reasons – (1) mashing the avocado right on top of the bread (instead of in a separate bowl) and (2) letting avocado toast sit before eating it. The best way to prevent avocado toast from getting soggy is to mash avocado in a separate bowl and assemble the toast right before eating.
Mash the avocado first in a bowl so it's prepared before the bread or english muffin is toasted. Once the bread or english muffin is toasted, take it out of the toaster, spread with avocado and eat immediately.
Is it OK to have an avocado every day?
Yes, avocados are great for you, so it's absolutely fine to eat them every day!
Avocado toast makes a great breakfast or lunch and it's good for you! If you are a fan of avocado toast who can eat it every day and not get tired of it, more power to you 🙂 You won't have to guess what's for lunch – not having to make this decision will make your life easier!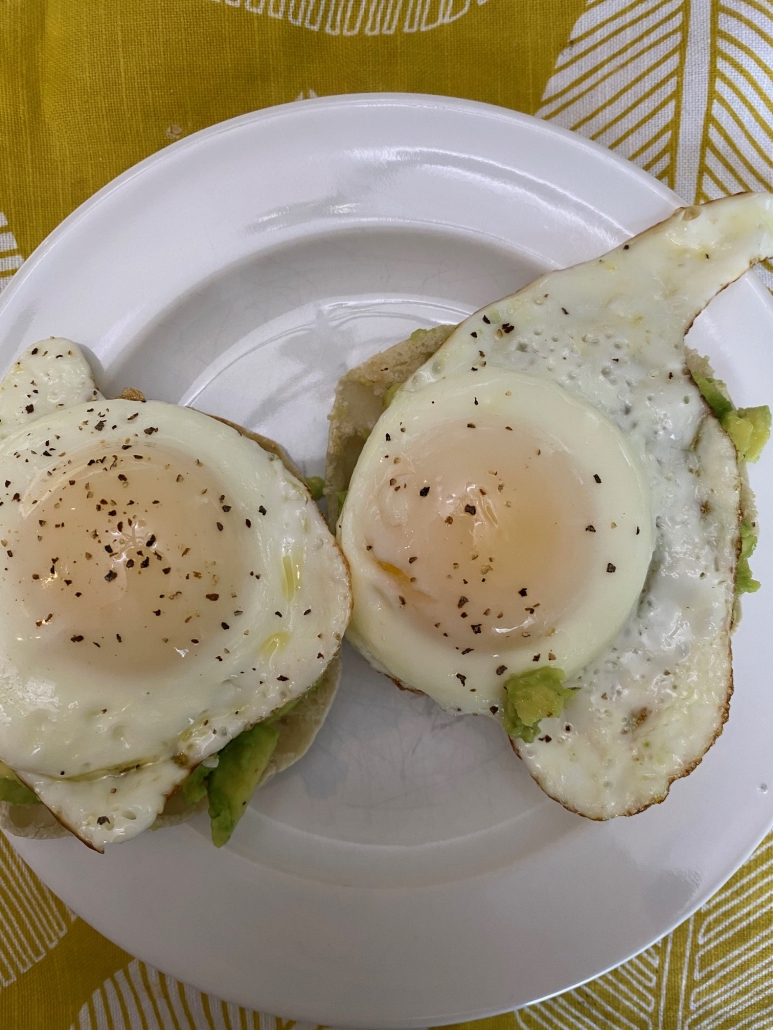 If you are looking for an easy, healthy, and DELICIOUS breakfast or lunch, then you will love this english muffin avocado toast. It is so tasty and filling, and you will definitely become addicted to this amazing toast:)
More Avocado Recipes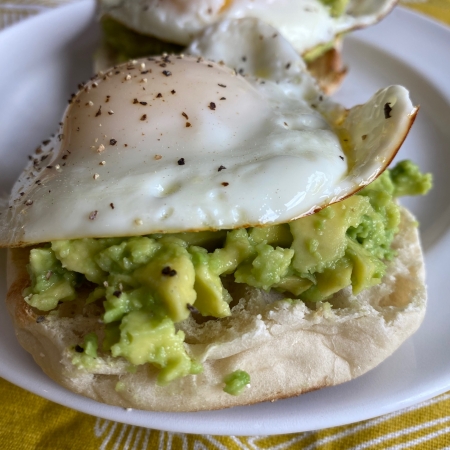 English Muffin Avocado Toast with Egg
This delicious avocado toast is packed with nutrients and so delicious! Serving as the perfect breakfast or lunch, you will absolutely love this savory avocado toast.
Ingredients
1

english muffin

sliced in half

2

eggs

1/2

avocado

1

tsp

lemon juice

(1 slice of lemon)

1/8

tsp

salt

pepper

to taste

1

tsp

olive oil

parmesan cheese

to taste

red pepper flakes

to taste
Instructions
Slice the english muffin in half and place in the toaster.

Crack the two eggs in a frying pan over olive oil, and allow them to cook for 2-3 minutes. Set aside.

Mash the 1/2 avocado and leave slightly chunky. Squeeze in the lemon and add in the salt and pepper.

Spread the avocado evenly across the two halves of the english muffin.

Drizzle with olive oil, parmesan cheese, and red pepper flakes (optional).
https://vibrantguide.com/wp-content/uploads/2021/11/english-muffin-avocado-toast-4-rotated.jpg
2016
1512
Anna
https://vibrantguide.com/wp-content/uploads/2019/01/logo2.png
Anna
2021-12-06 00:13:34
2022-11-05 21:16:15
English Muffin Avocado Toast Recipe With Egg