July Nail Ideas, Designs, Colors

As the temperature rises and the sun shines brighter, it's time to switch up your nail game and embrace the vibrant spirit of July. Whether you're planning to hit the beach, attend a summer soirée, or simply want to add a touch of fun to your everyday look, exploring July nail ideas and designs is the perfect way to express your personal style. From bright and bold colors to playful patterns and thematic designs, the options are endless.
July presents a wealth of inspiration, including the celebration of Independence Day, the lively atmosphere of summer festivals, and the refreshing beauty of nature in full bloom. Incorporating these elements into your nail art can make a stylish statement and put you in the mood for the season's festivities.
When it comes to July nail designs, think bold and patriotic with a patriotic color palette of red, white, and blue. You can opt for classic stripes, stars and fireworks, or even mix and match patterns to create a unique look. If you're looking for a more subtle approach, floral patterns, fruity motifs, or tropical palm leaves can add a touch of summer charm to your nails.
Remember, nail art is all about self-expression, so don't be afraid to experiment with different colors, textures, and techniques. Whether you're a DIY enthusiast or prefer visiting a professional nail artist, July is the perfect time to let your nails shine and complement your summer wardrobe.
In the upcoming sections of this blog post, we'll explore some exciting July nail ideas and designs that will inspire you to get creative and show off your personality. So, get ready to dazzle with your fingertips and embrace the summery vibes of July! If you are looking for more summer nail designs, be sure to check out June Nails Designs, Ideas, Colors, & Summer Nail Designs, Ideas, Colors 2023.
Patriotic Nails
Patriotic nails are a fantastic way to show your love for your country and celebrate Independence Day. With a color palette of red, white, and blue, you can create stunning nail designs that exude patriotism. From classic flag-inspired patterns to intricate designs featuring stars, stripes, and fireworks, patriotic nails allow you to display your national pride in a stylish and eye-catching manner. Whether you prefer a subtle accent nail or a full-blown patriotic manicure, these nail designs are sure to make a statement and add a festive touch to your overall look. Let your nails be a reflection of your patriotism! For more patriotic nails, check out 4th of July Nail Designs & Ideas.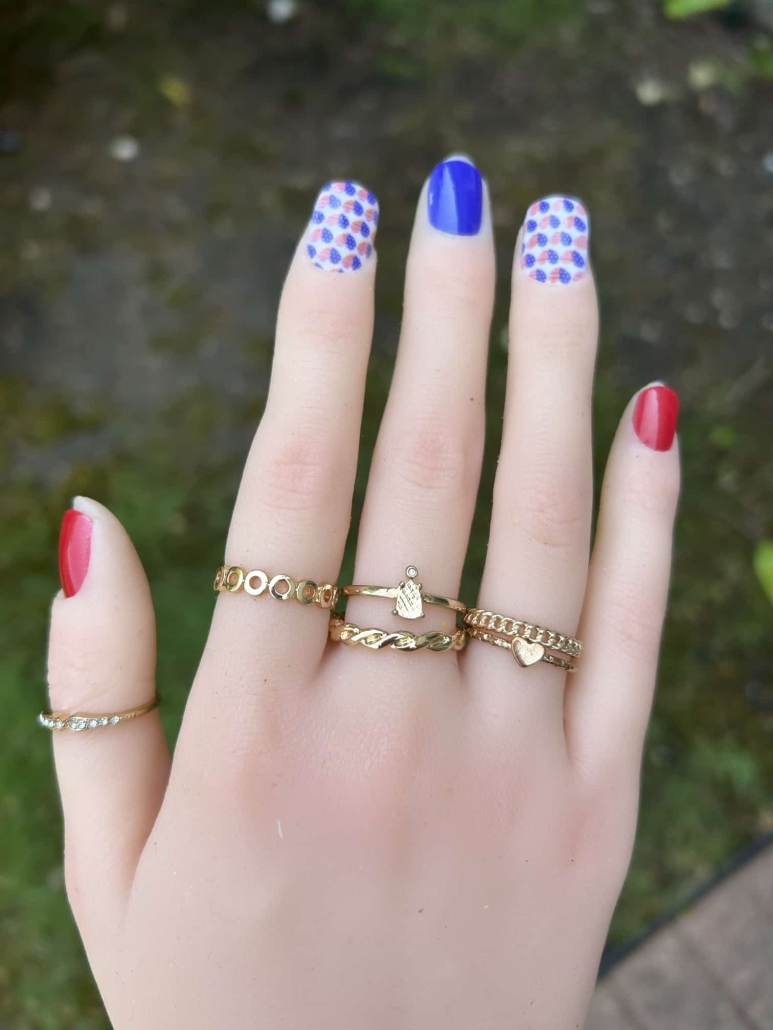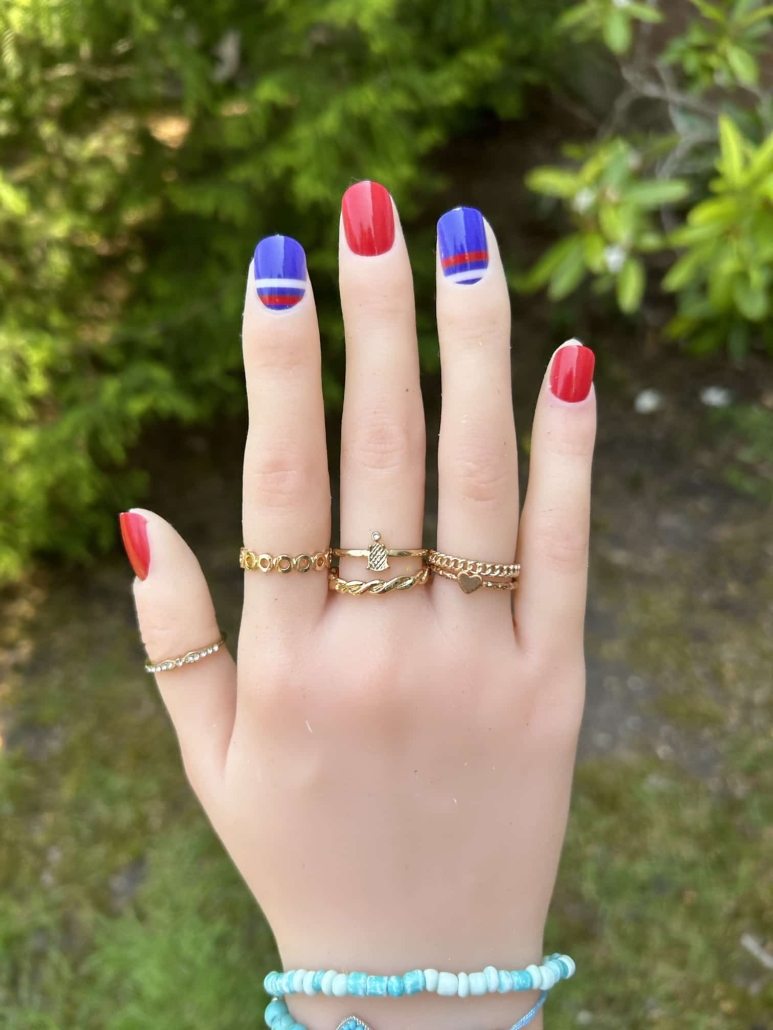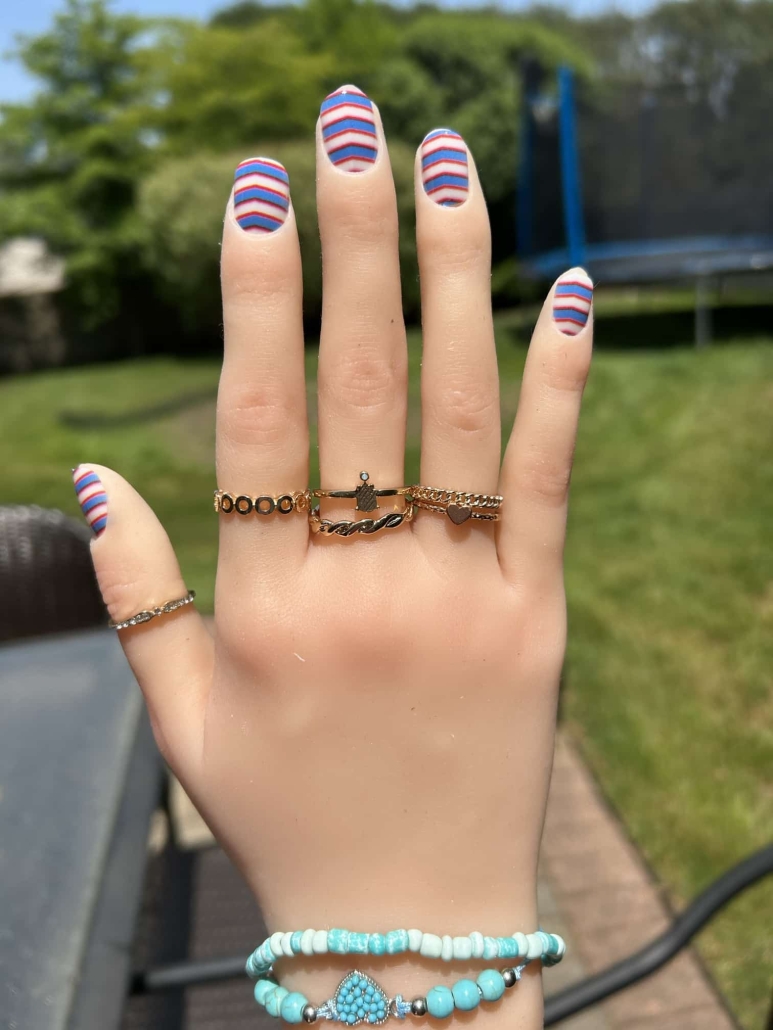 Cheerful July Nails
Cheerful nails are all about embracing vibrant colors, playful designs, and positive energy. These lively nail designs can instantly uplift your mood and add a touch of joy to your day. From bright and bold shades like sunny yellows, vibrant pinks, and cheerful oranges to whimsical patterns like polka dots, flowers, or cute emojis, cheerful nails allow you to express your fun-loving personality. Whether you opt for a full set of colorful nails or incorporate cheerful accents into your manicure, these designs are sure to make you smile every time you look at your fingertips. Spread happiness with your nails and let them be a reflection of your sunny disposition. For more cheerful nail looks, check out Vacation Nails Ideas Designs Colors.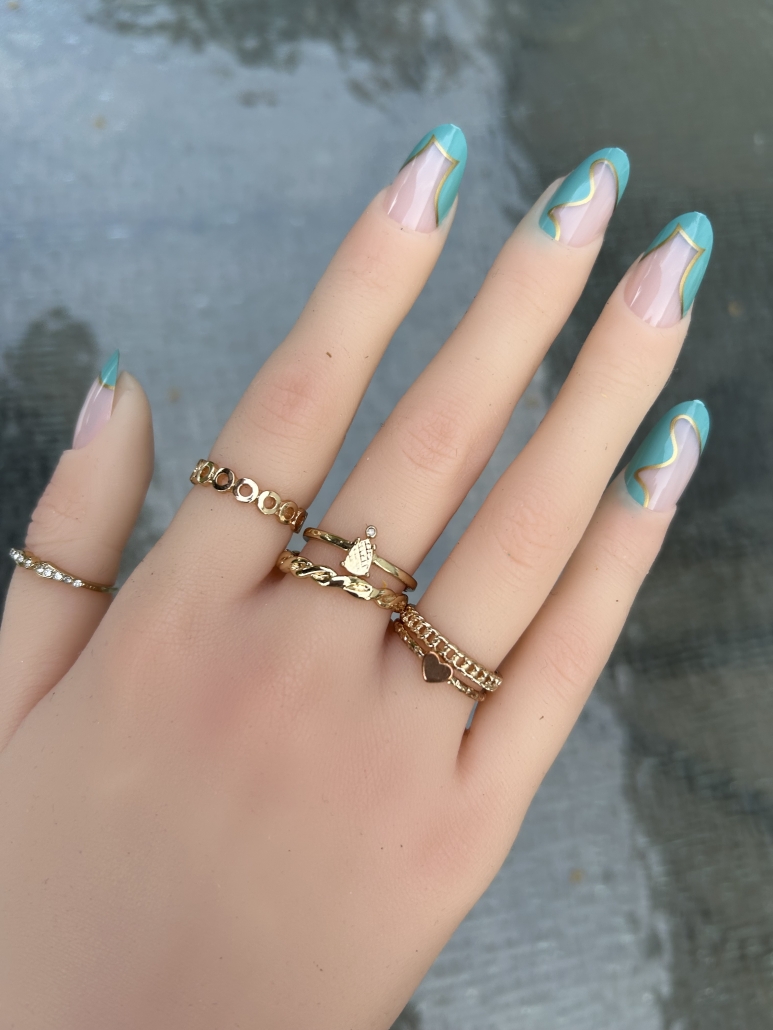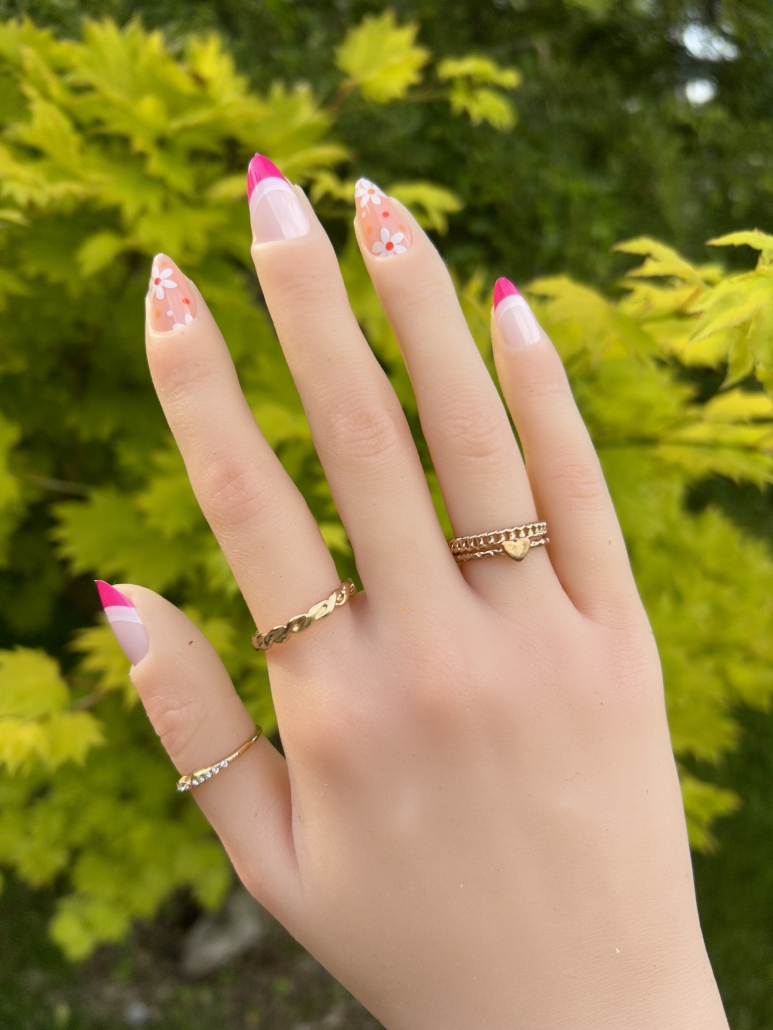 Hot Pink Coffin Nails with White and Silver Swirls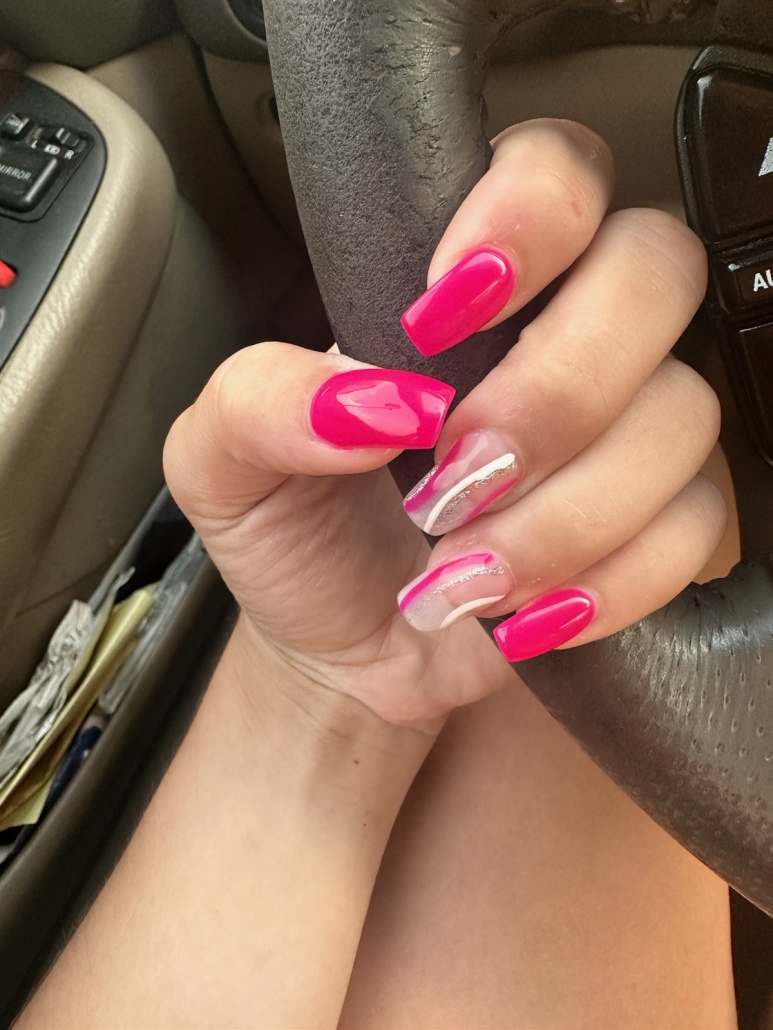 Short White Nails with Blue and Silver Swirls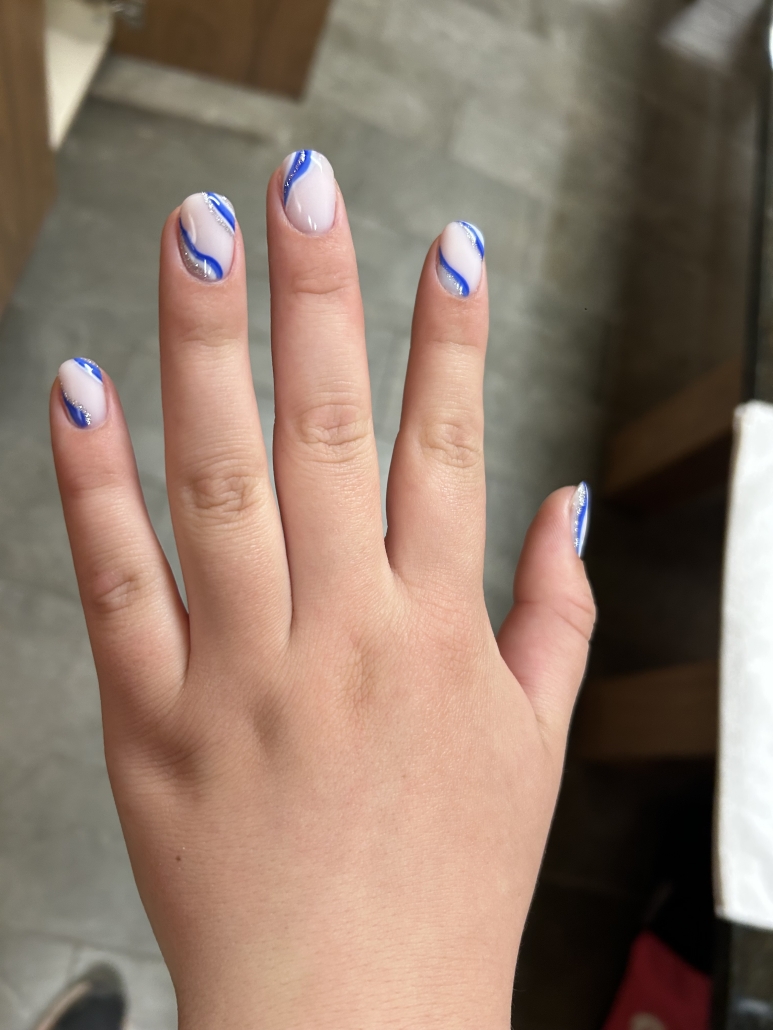 Flower Nails – Red Coffin Nail Design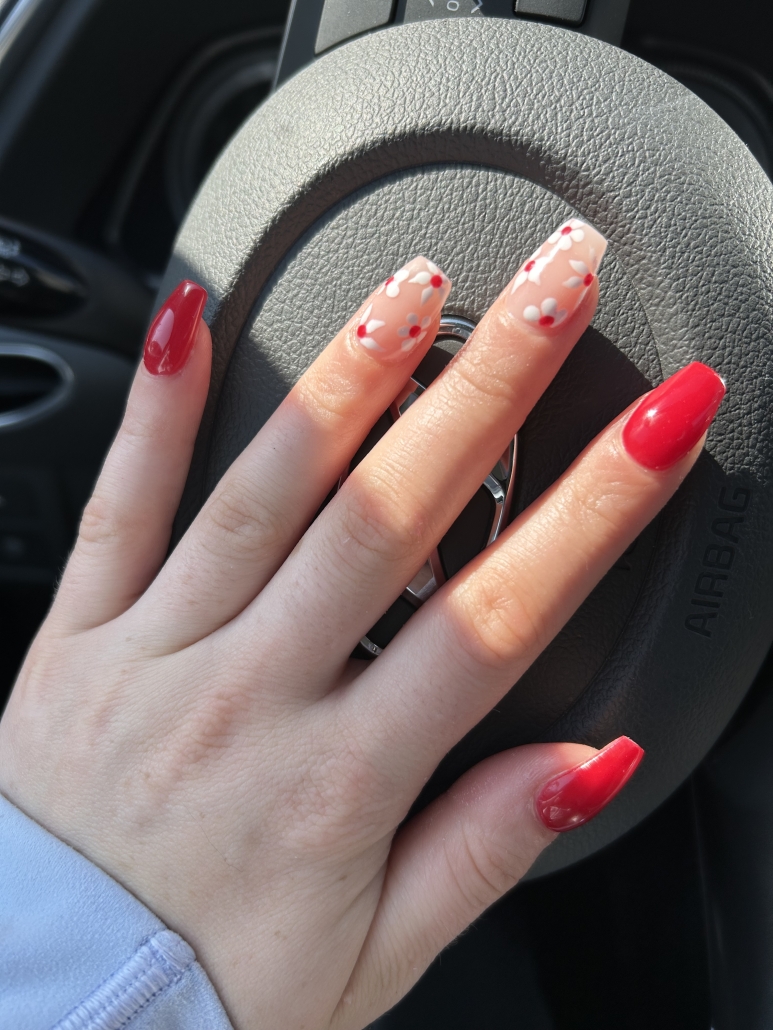 Flower July Nails
Flower July nails are the perfect way to embrace the beauty of summertime and channel the blooming nature around you. Incorporating floral designs into your manicure can add a touch of elegance and freshness to your overall look. Whether you prefer delicate and intricate floral patterns or bold and vibrant flower motifs, there's a myriad of options to choose from. From dainty roses and daisies to tropical blooms and wildflowers, these designs can be customized to match your personal style. Flower July nails are a wonderful way to celebrate the season and add a touch of natural beauty to your fingertips. If you like these flower nail designs, also look at Flower Nails – Designs and Ideas. Also check out How to paint a flower onto nail, if you want to recreate any of these nails.
Orange French Tip Nails with Flowers Design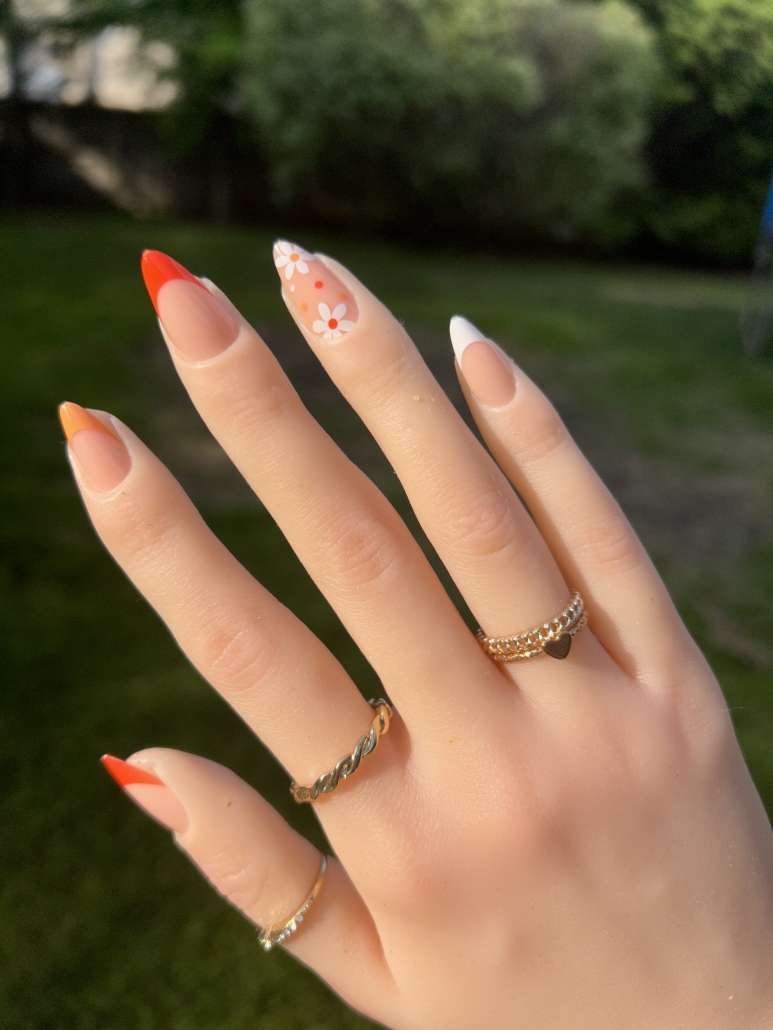 Blue Summer Nails Design With Flowers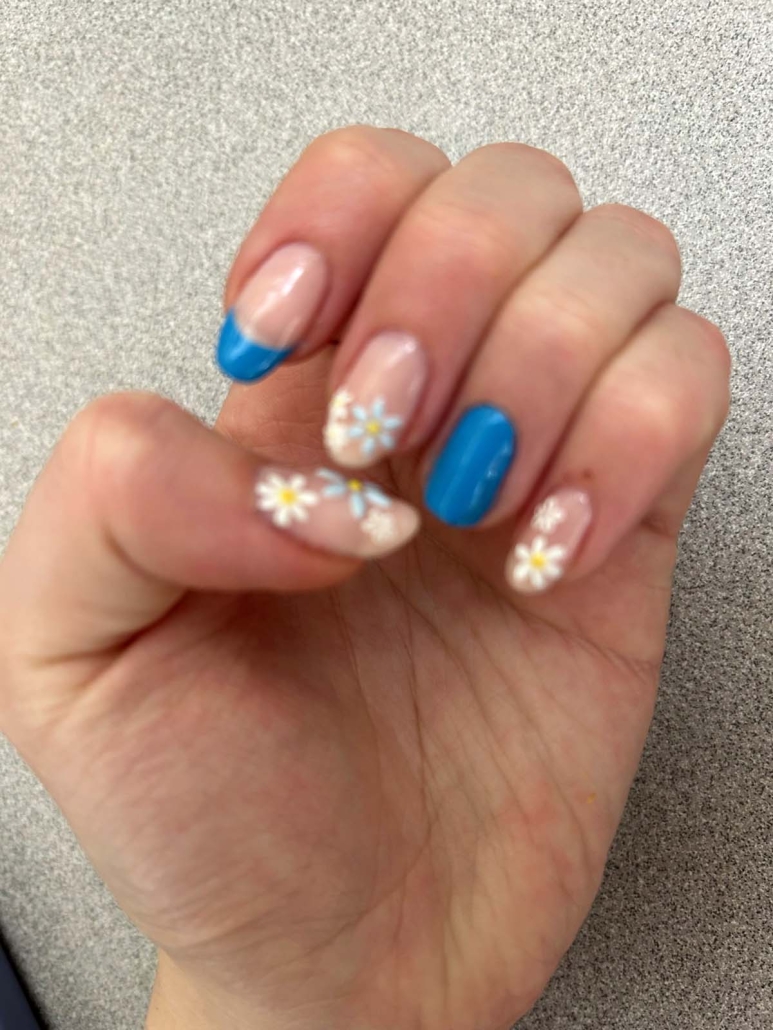 Lotus Flower Nail Design Blue And White Manicure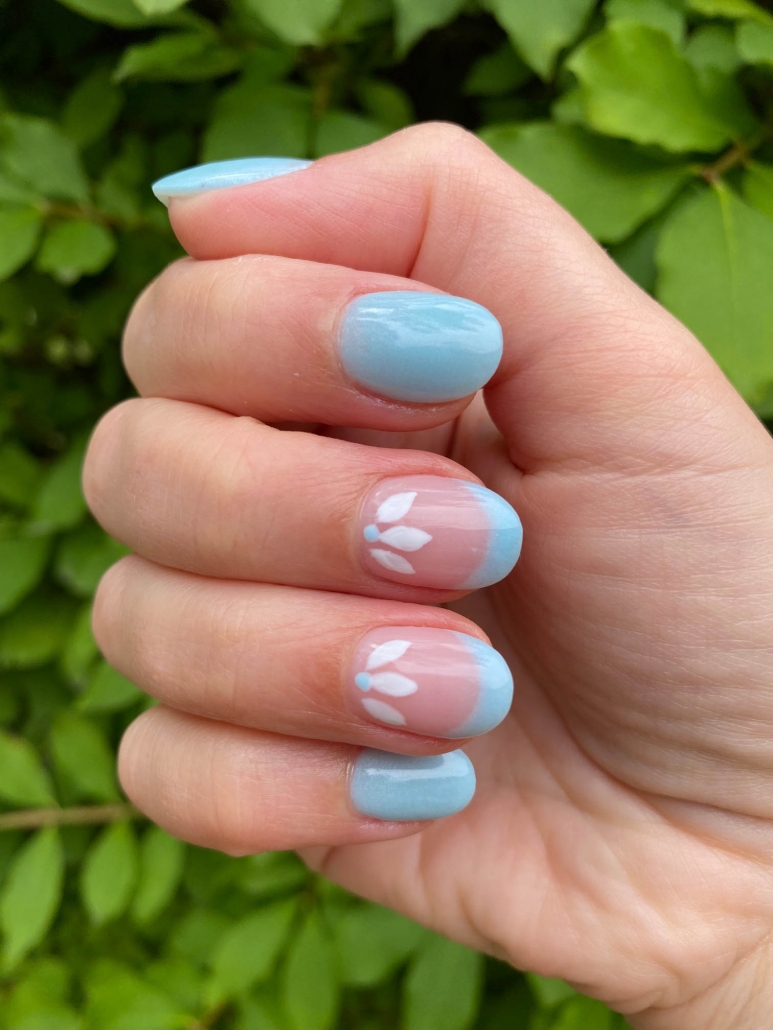 Yellow And Orange Nails Designs With Flowers And Summer Swirls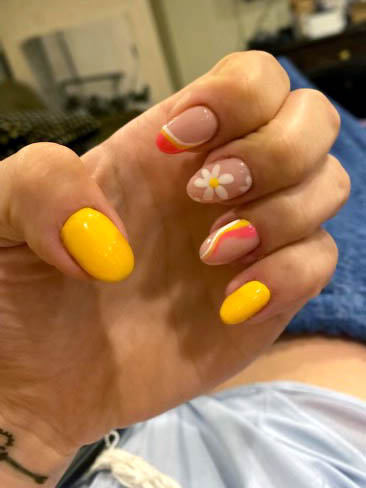 Light Purple Nails Design With Flowers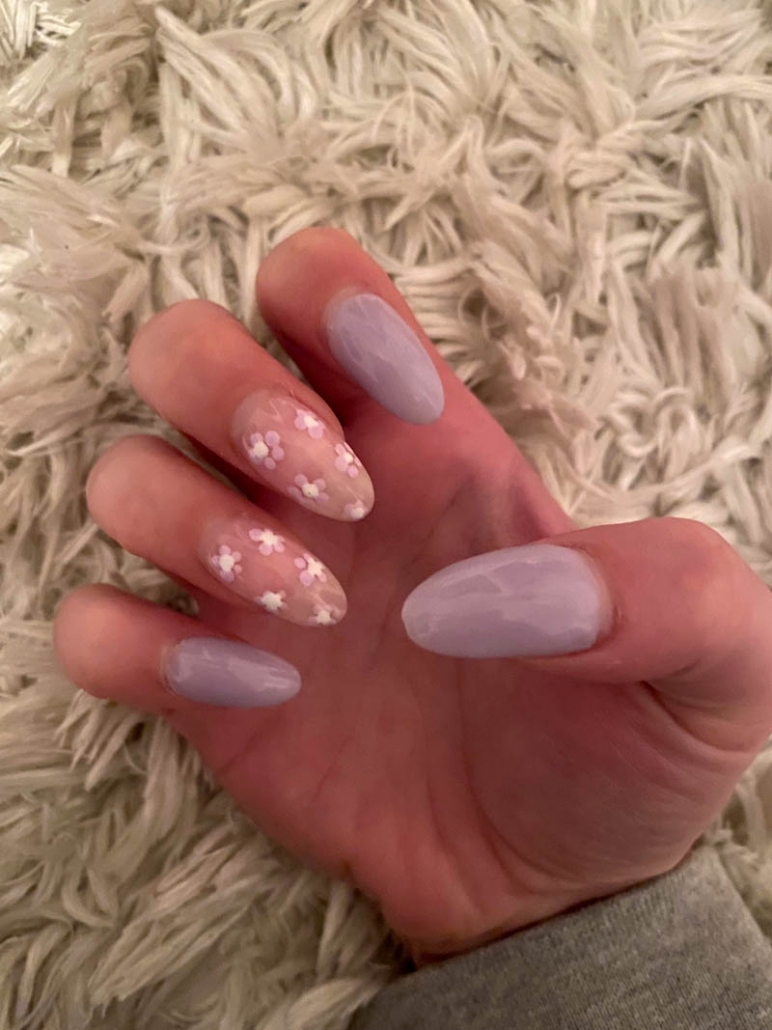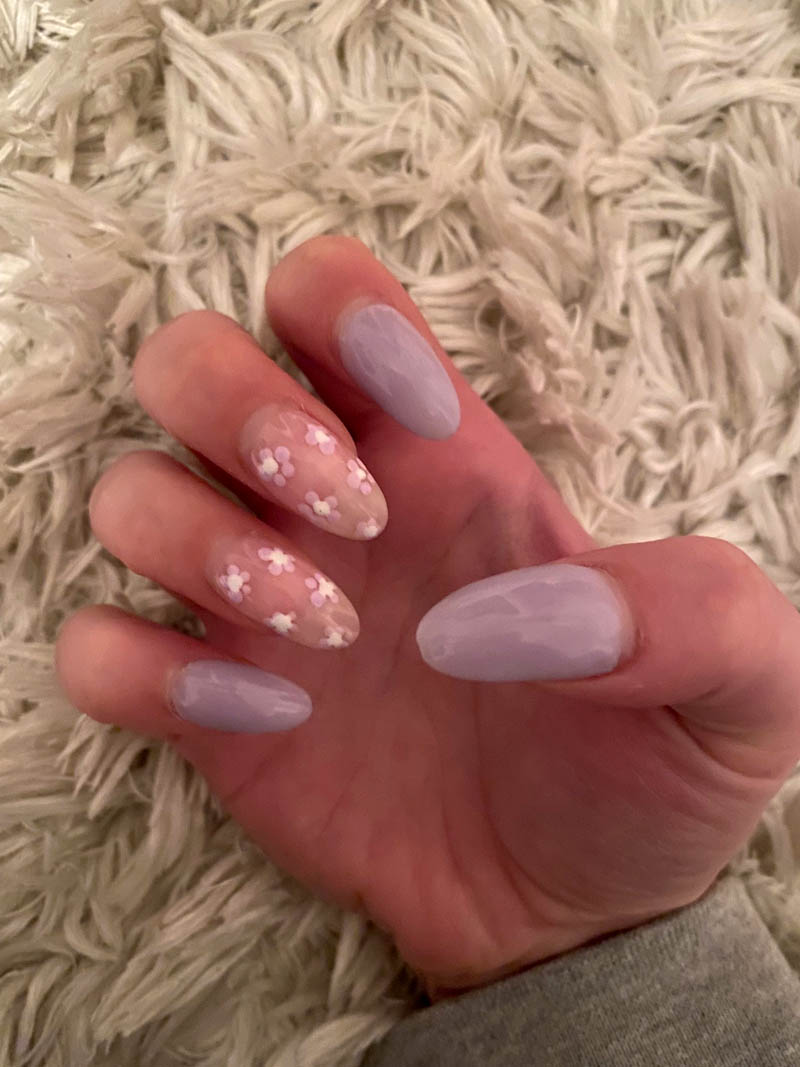 French Tip July Nails
July French tip nails offer a classic and timeless manicure option with a summer twist. The traditional French manicure gets a playful upgrade with vibrant colors and creative variations. Instead of the traditional white tips, you can opt for patriotic hues like red, white, and blue for a Fourth of July-inspired look. Alternatively, you can experiment with bold and bright shades that capture the essence of summer. Adding glitter, rhinestones, or geometric patterns to the French tips can add a modern and eye-catching touch. July French tip nails are a versatile choice that combines sophistication with a touch of seasonal flair, perfect for any summer occasion. If you want more French tip nail designs, check out French Tips Nails Ideas, Designs, Colors.
Long White Nude Almond French Tip Nails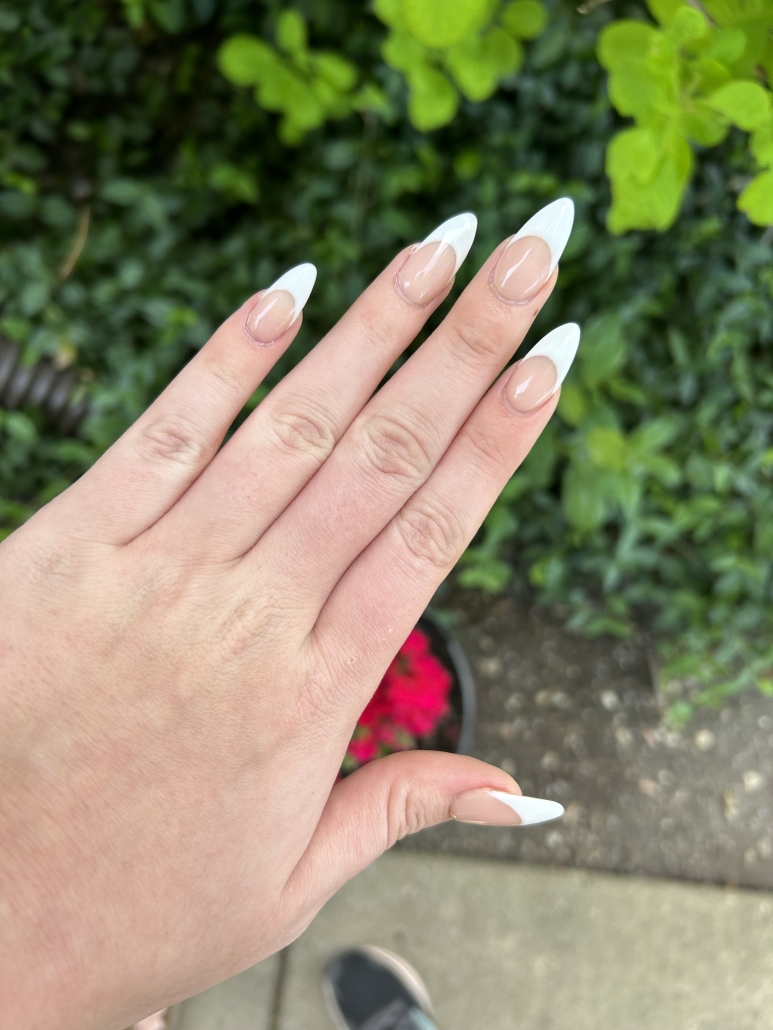 Orange French Tip Nails with Flowers Design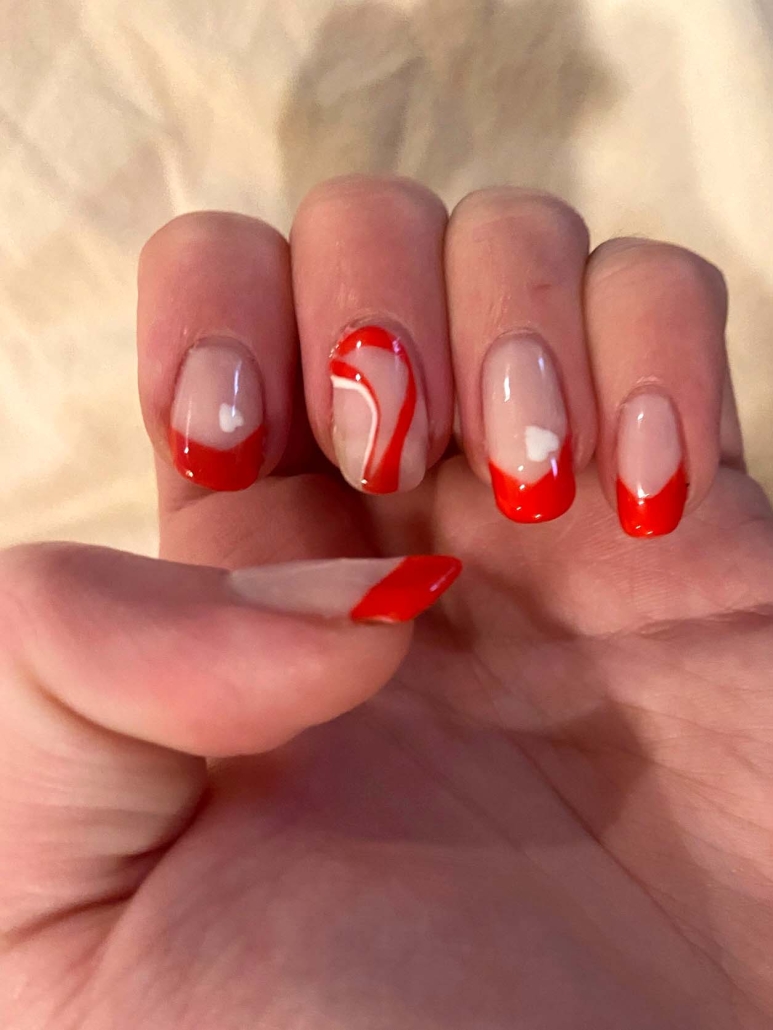 White French Tip Nails With Design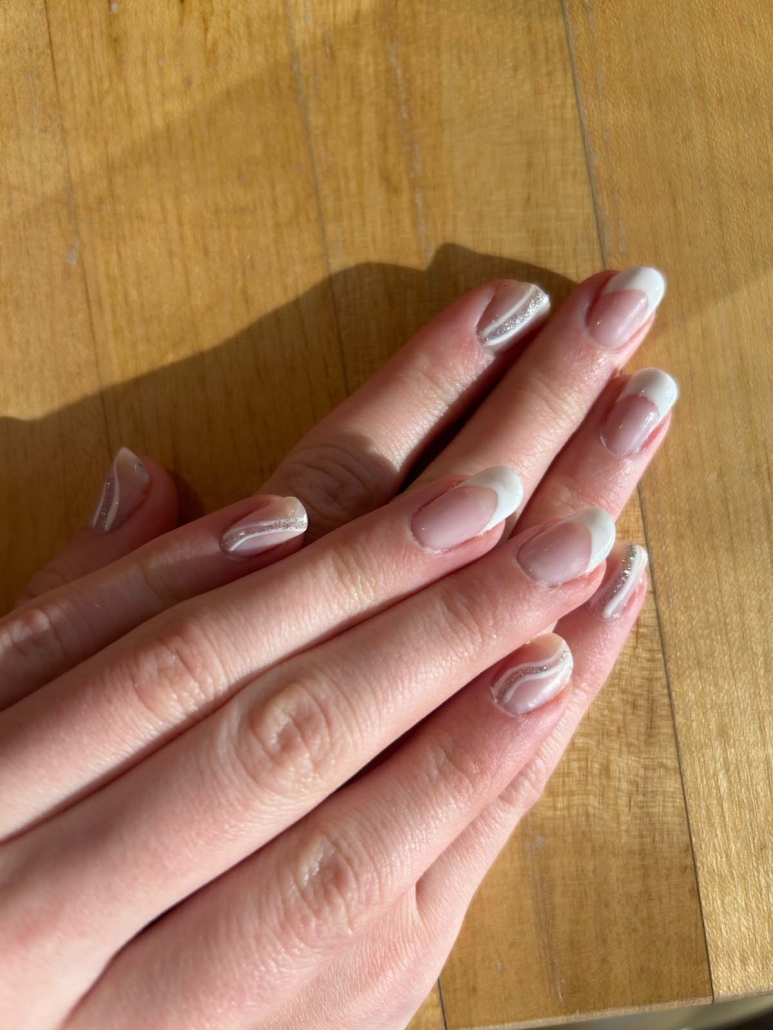 Purple French Nail Tips With Flowers And Glitter Design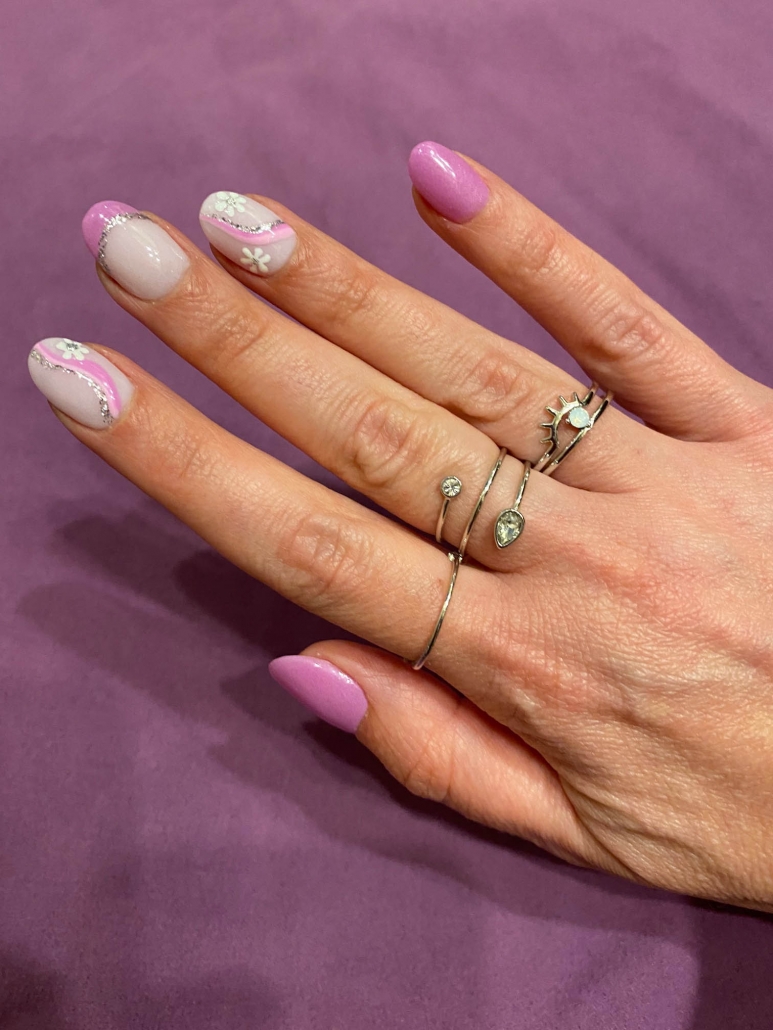 Coffin July Nails
Coffin nails, also known as ballerina nails, have become a popular and sought-after nail shape in recent years. This style features a squared-off tip with straight sides, resembling a coffin or ballerina slipper. Coffin nails offer a sleek and elegant look that can enhance the length and appearance of your fingers. The shape provides a perfect canvas for various nail designs, from simple and minimalistic to bold and intricate. Whether you prefer a classic nude shade, vibrant colors, or intricate nail art, coffin nails are a versatile choice that can add a touch of sophistication and glamour to your overall style. For more coffin nails, check out Long Coffin Nail Ideas.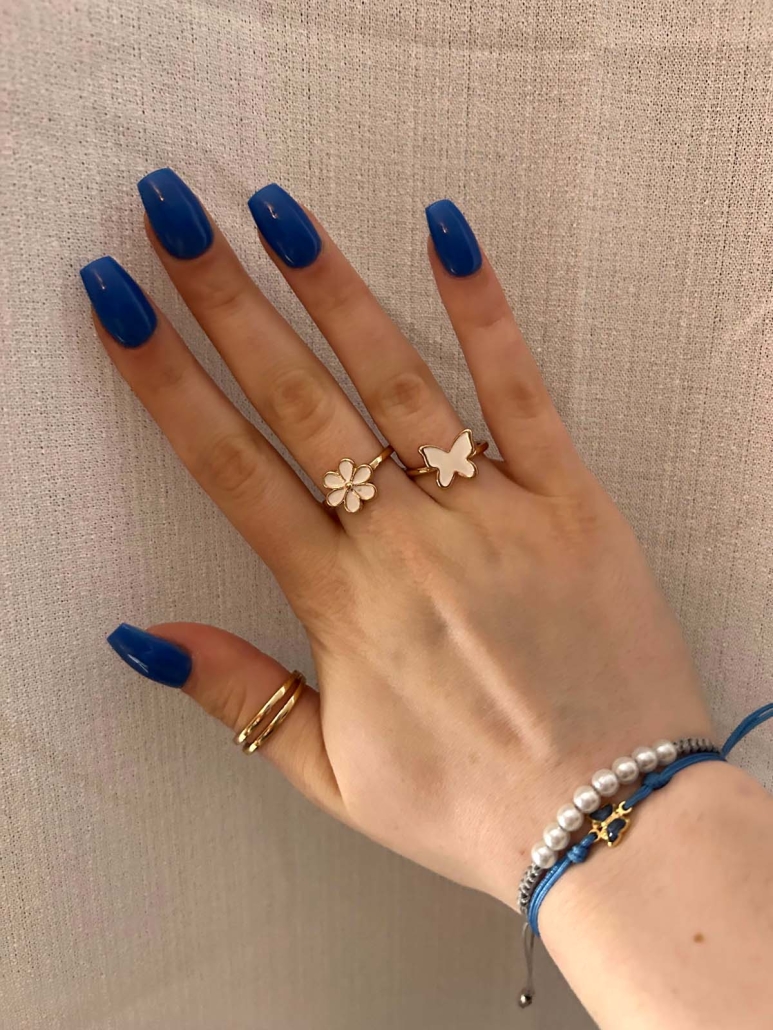 Pink Chrome Nails with Coffin Tips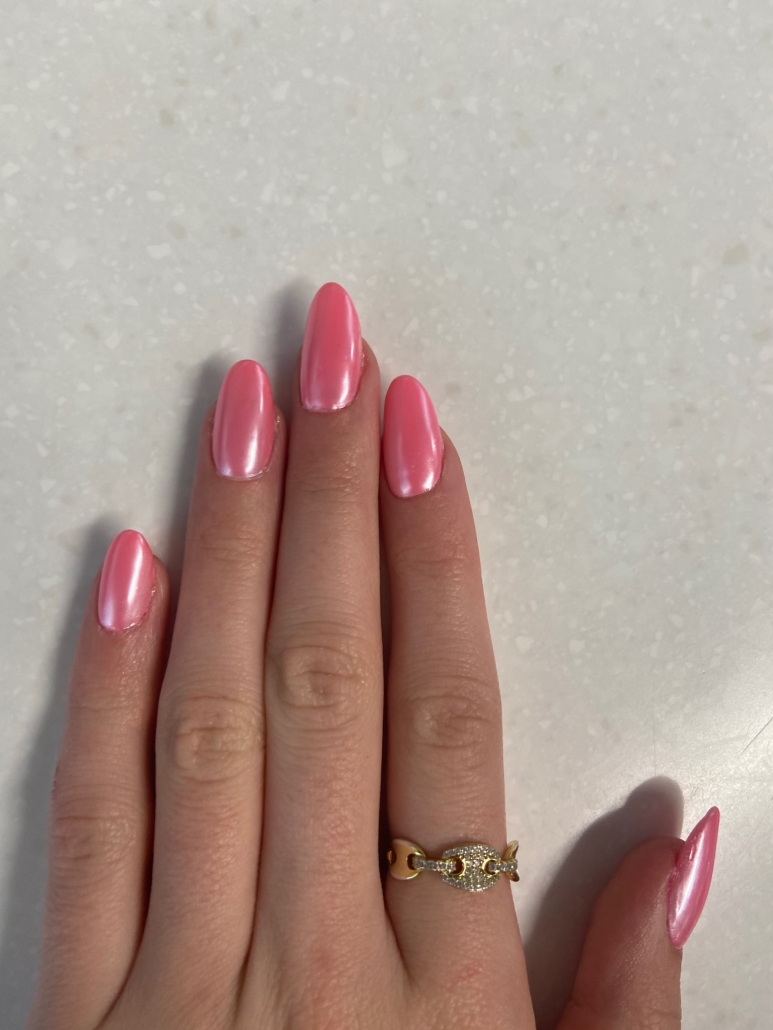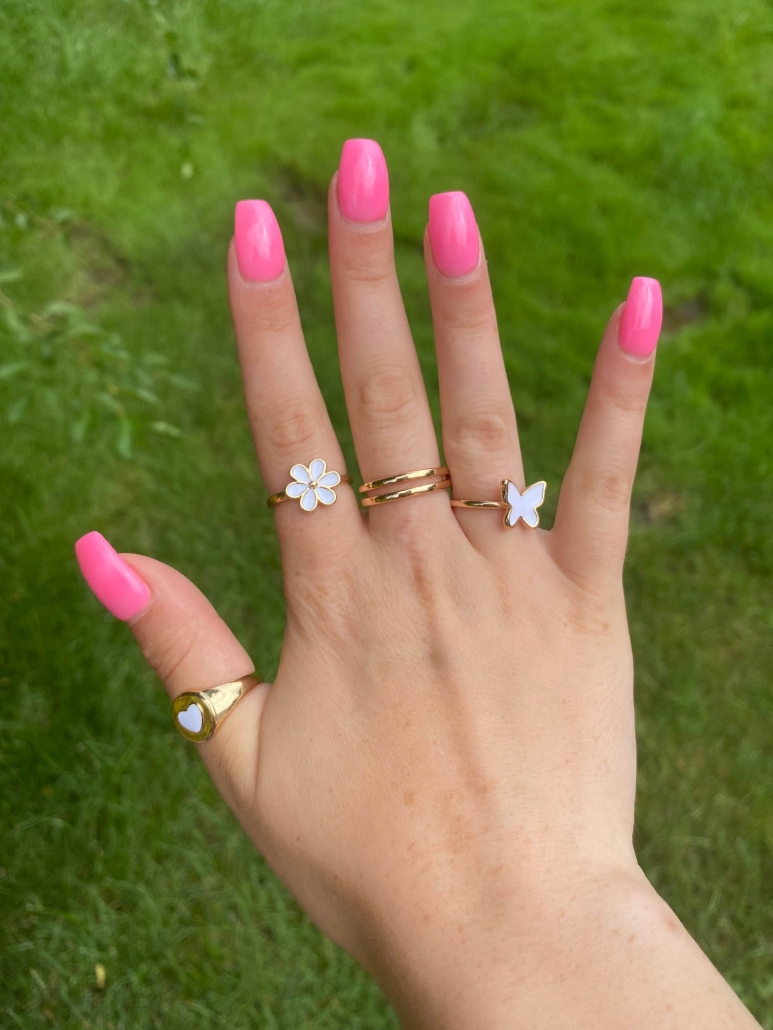 Sky Blue Coffin Nails Manicure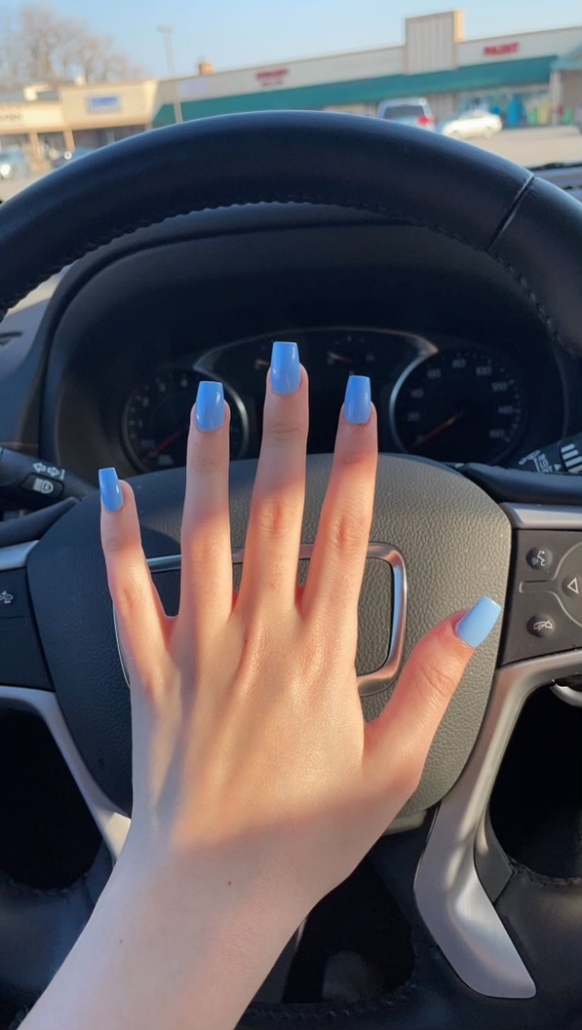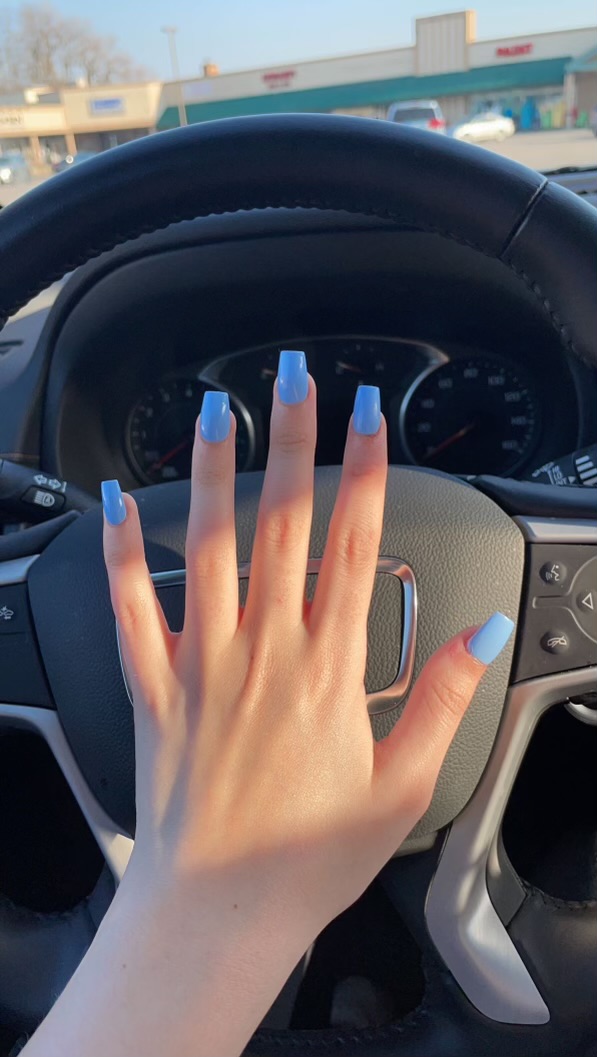 Easy Cute Coffin Nails Design – Pink & White Swirls On Nude Nails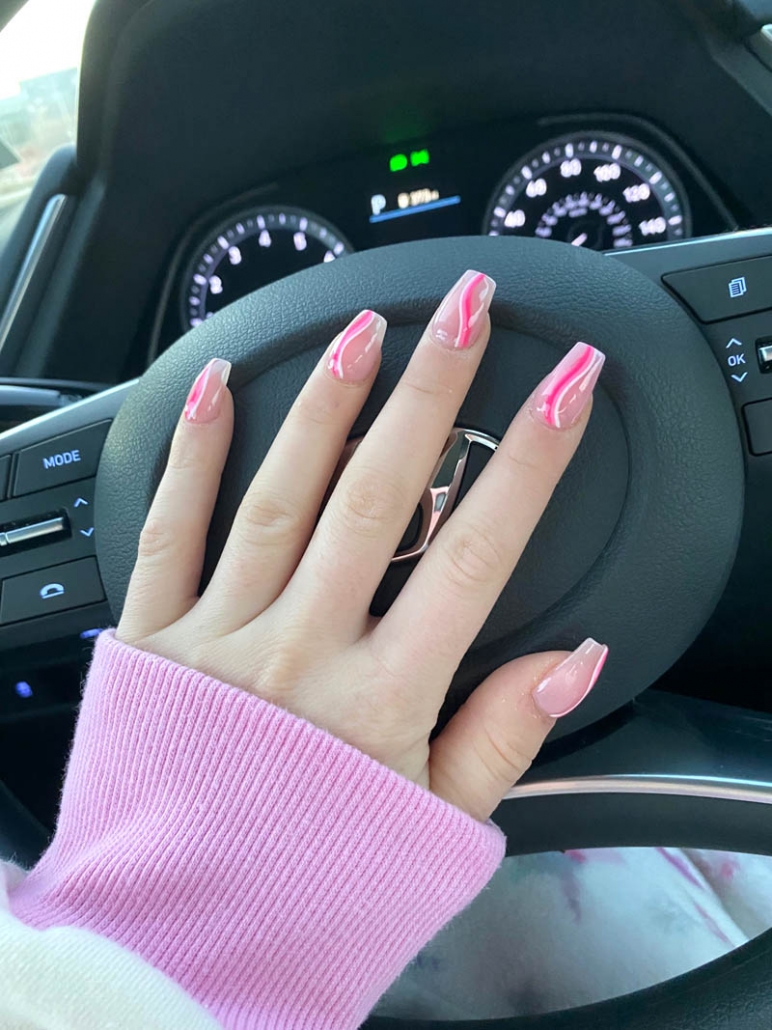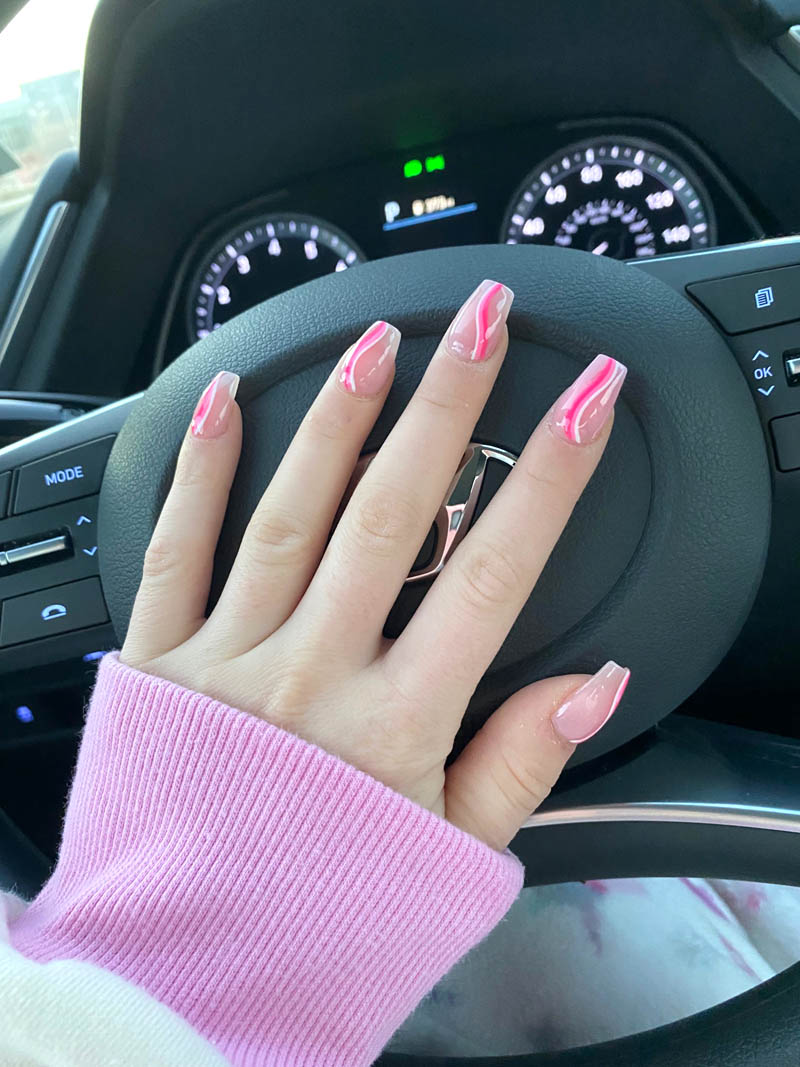 Simple July Nails
Simple nails offer a minimalist and understated approach to nail art, focusing on clean lines and subtle elegance. Embracing simplicity doesn't mean compromising on style. With a simple nail design, you can achieve a chic and polished look that complements any outfit or occasion. Whether it's a classic nude shade, a soft pastel hue, or a clean white manicure, simple nails are versatile and timeless. This style is perfect for those who prefer a more low-maintenance approach or want to create a sophisticated base for accentuating with jewelry or accessories. Sometimes less is more, and simple nails are a perfect embodiment of that mantra. For more simple nail looks, check out Simple Nails Ideas and Designs.
Light Blue Butterfly Nails Design Idea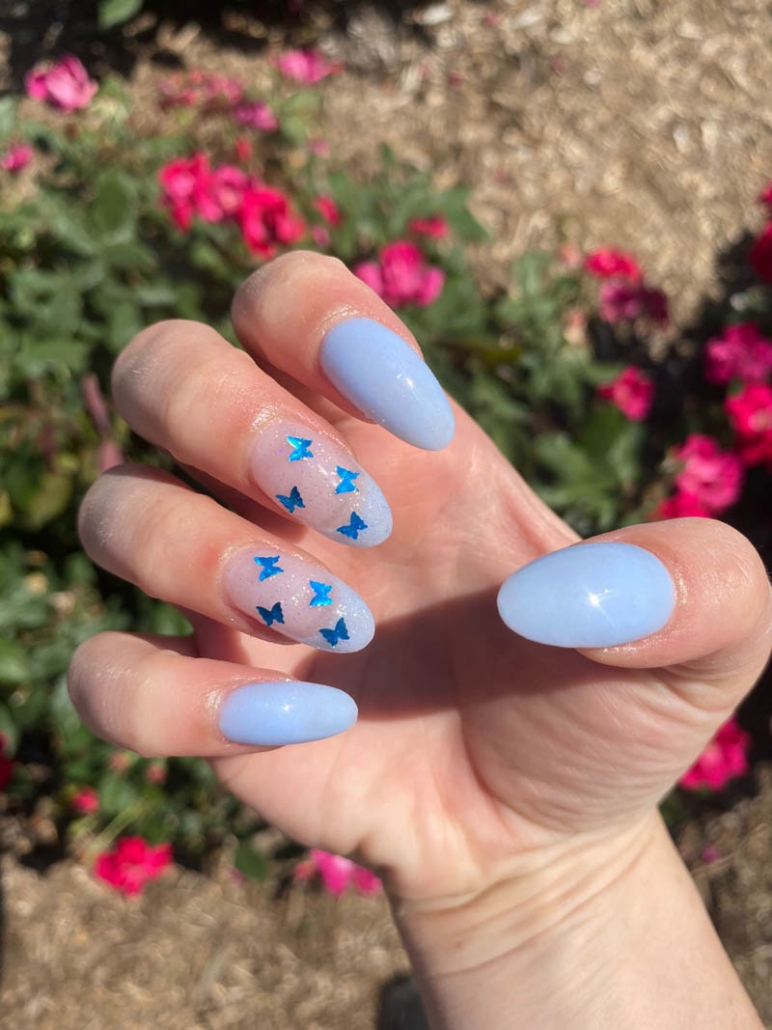 Orange French Tips Nails Manicure With Flowers Design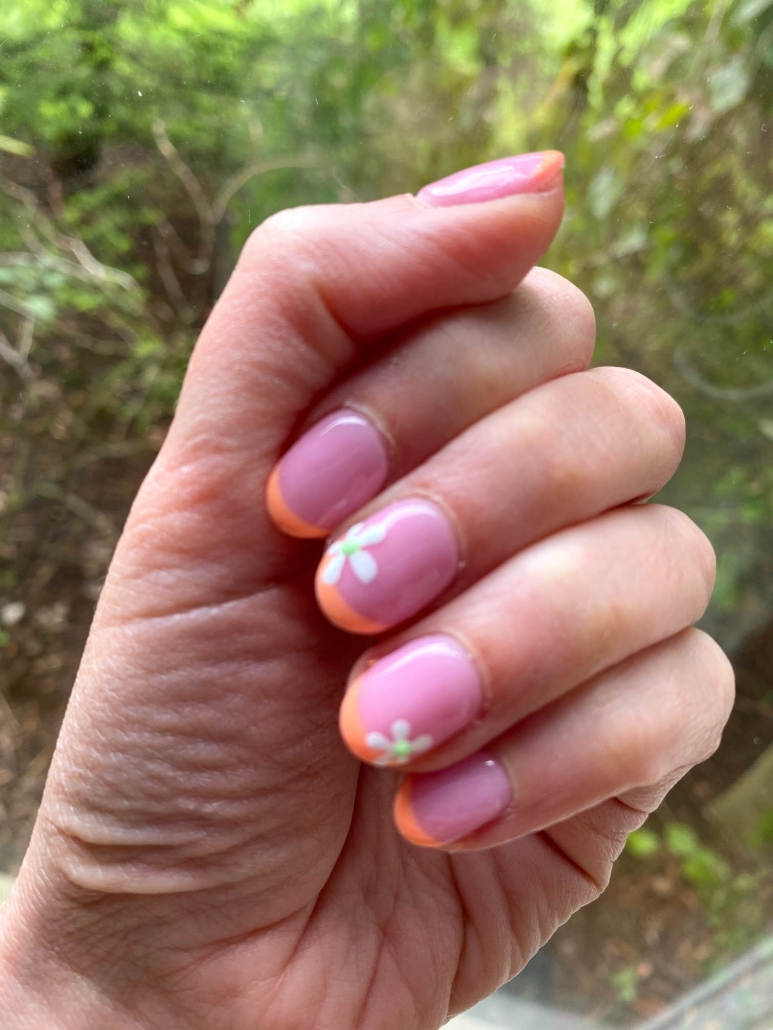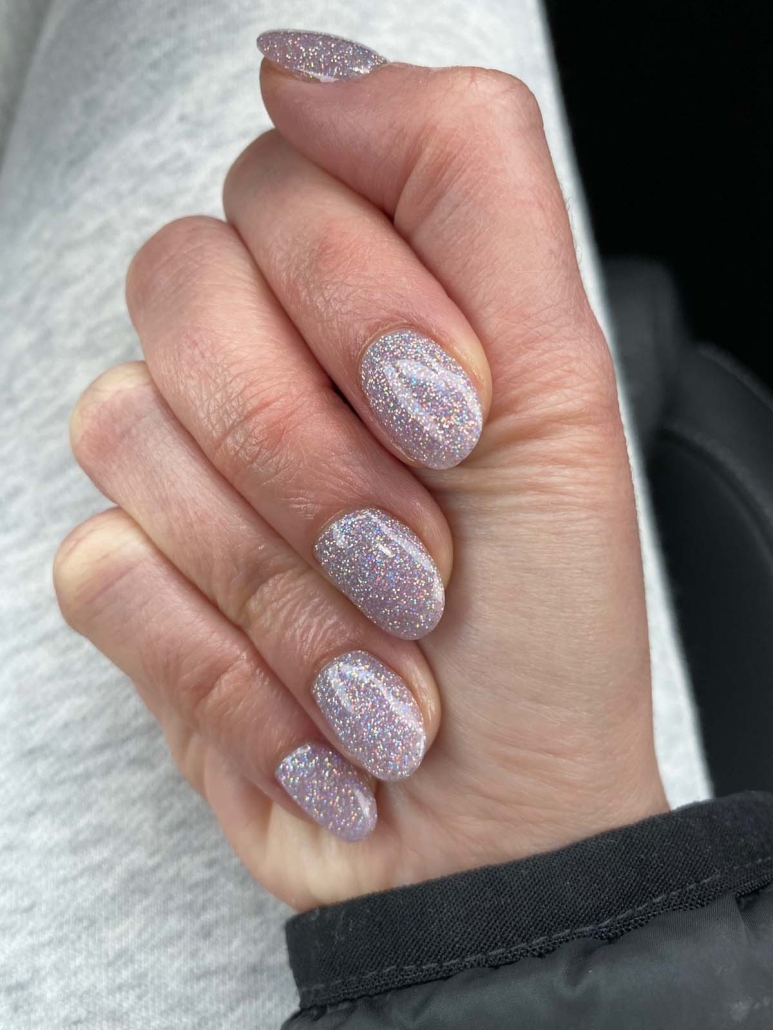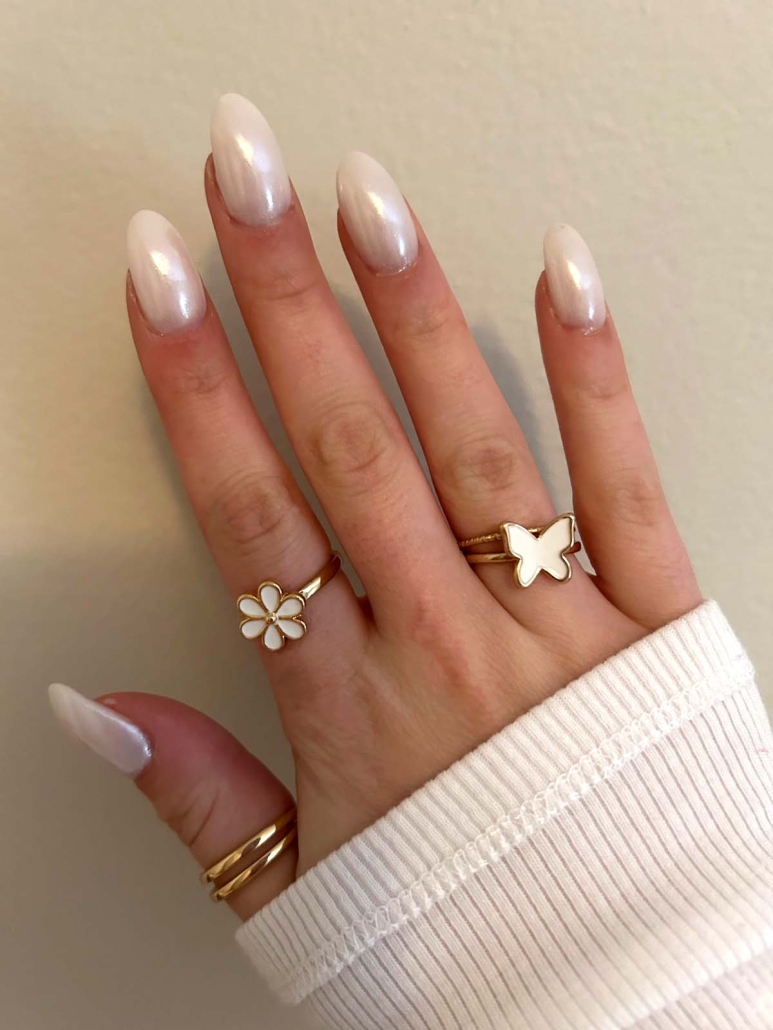 Swirly July Nails
Swirly nail designs add a whimsical and artistic touch to your manicure. These designs feature intricate swirl patterns that can be created using various techniques like freehand painting, water marbling, or stamping. Swirly nails offer a playful and eye-catching look, with swirling lines and curves that create a sense of movement and visual interest. You can experiment with different color combinations to create a mesmerizing effect, or opt for monochromatic swirls for a more subtle and elegant look. Whether you prefer bold and vibrant swirls or soft and delicate ones, this design is a fantastic way to showcase your creativity and make a statement with your nails. If your looking for more swirly nail looks, check out Swirl Nail Designs.
Red and White Almond Nails with Swirls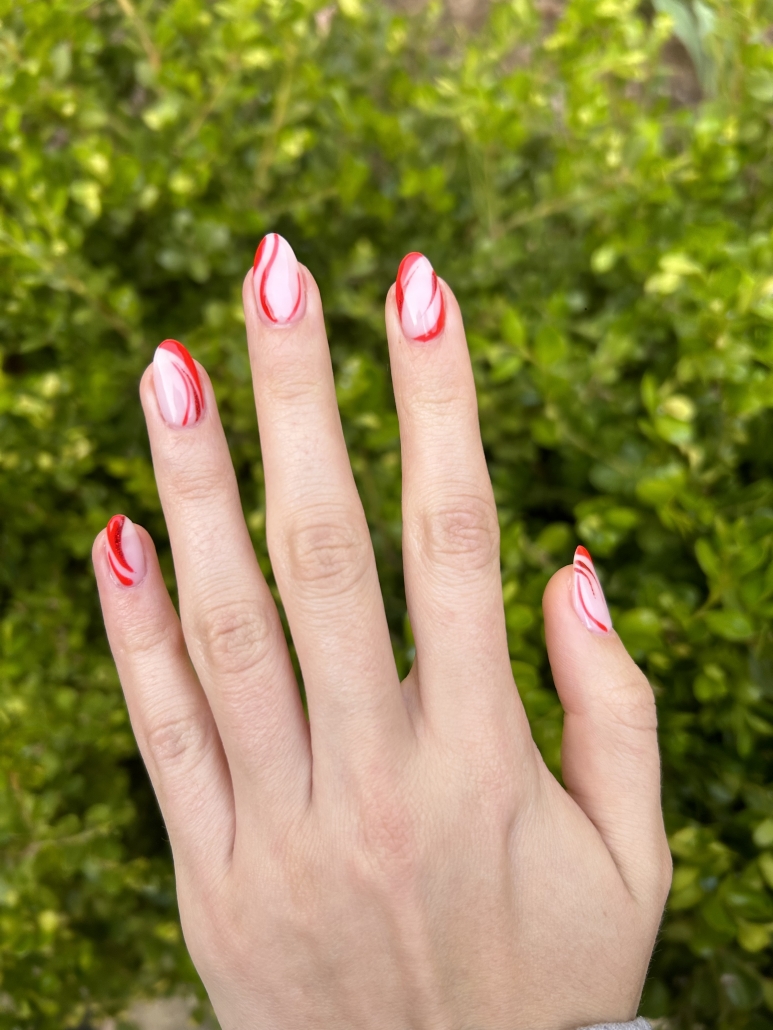 Blue And White Swirl Nails Design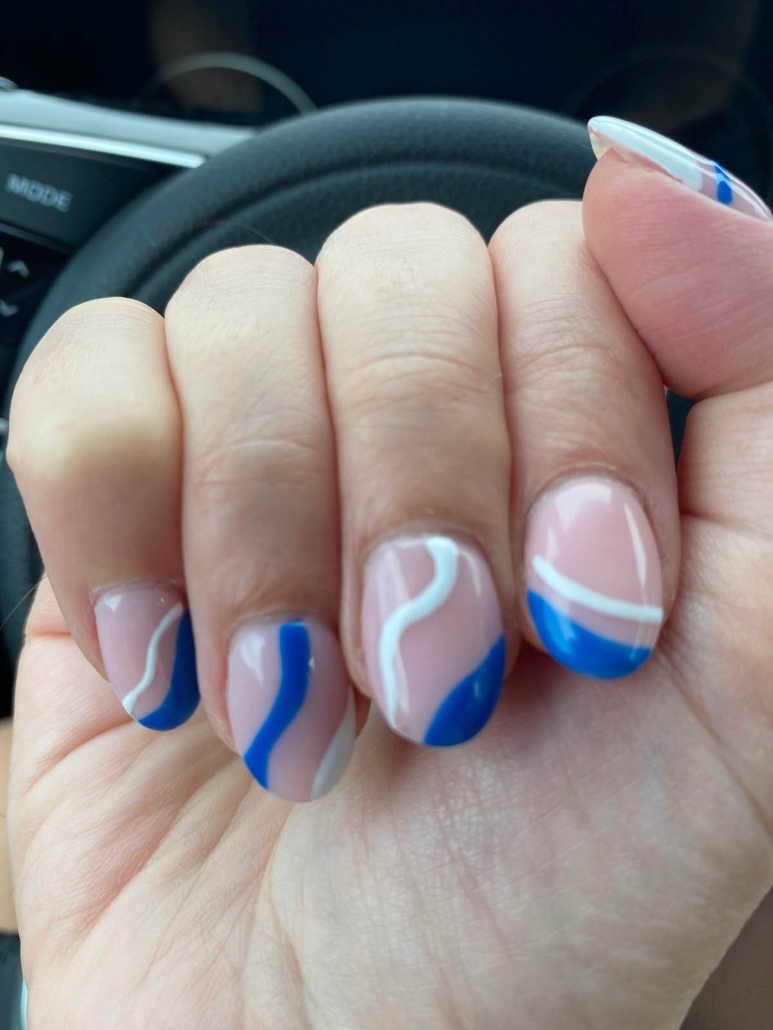 Bright Orange Nails With White Swirls Design Idea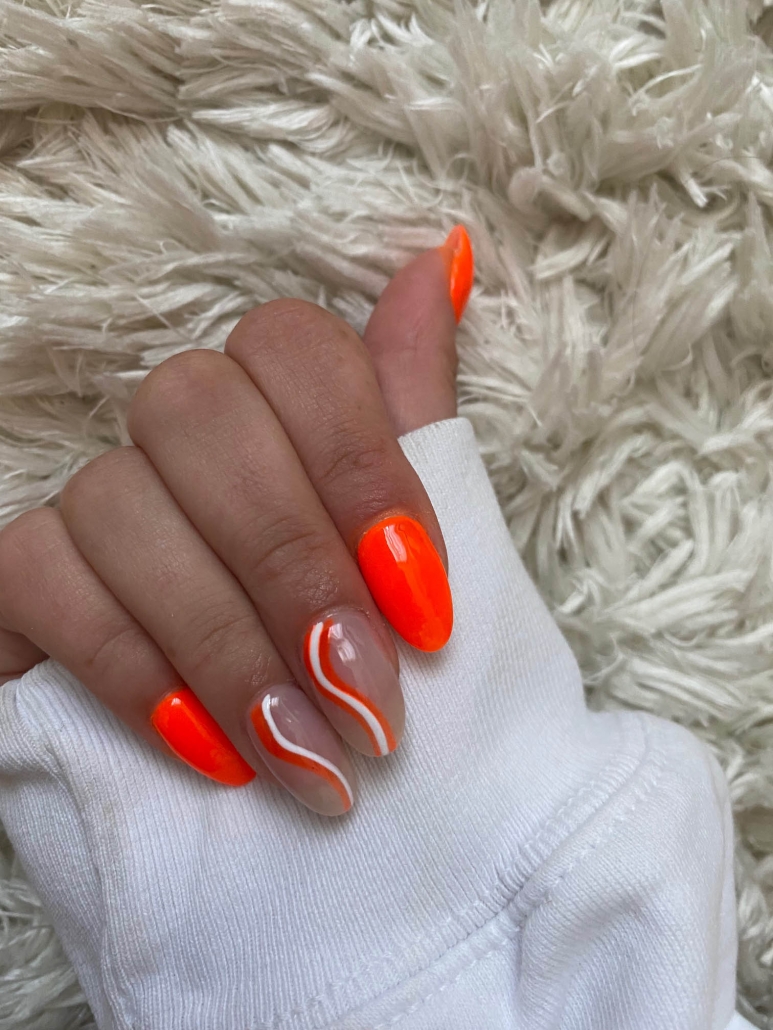 Pastel Summer Nails Multicolor Swirls Design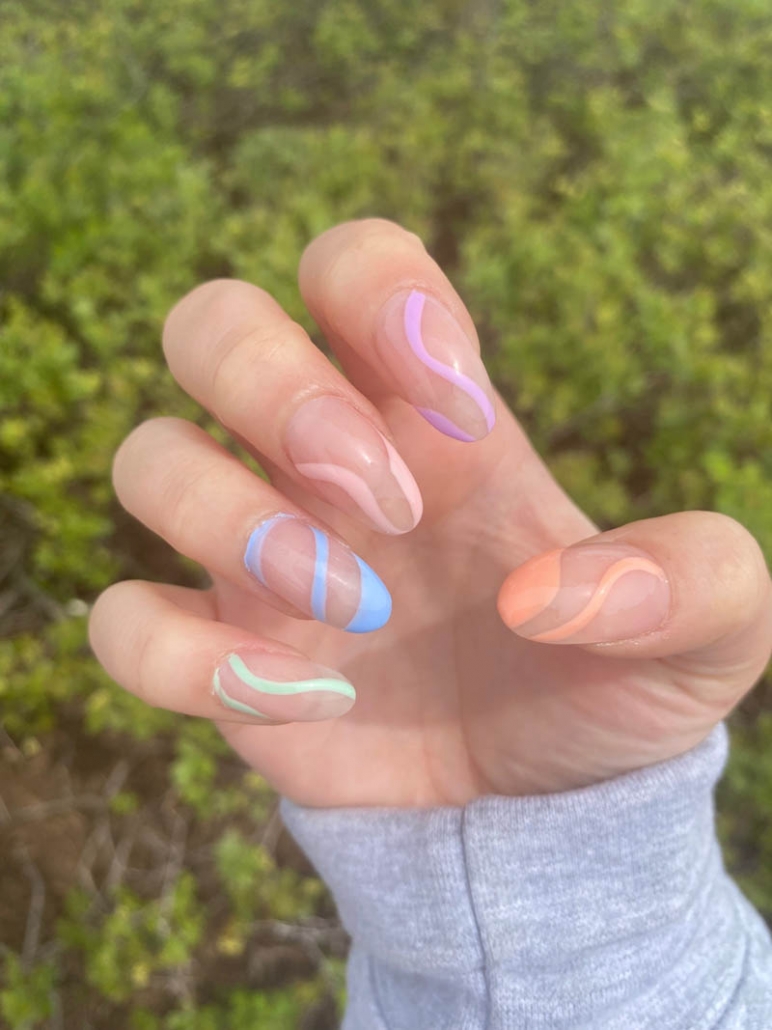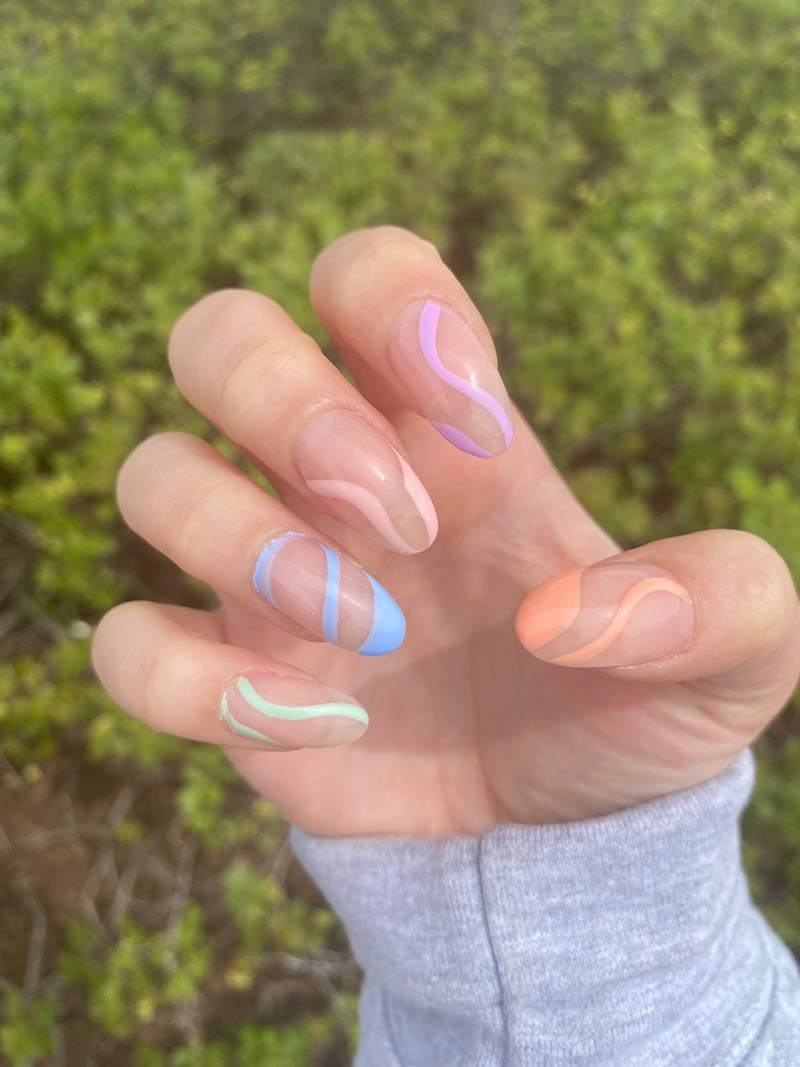 Red White and Blue Nail Designs
Red, white, and blue nail designs are a classic and timeless choice, perfect for showcasing your patriotism or celebrating the Fourth of July. The color combination offers a striking and bold look that captures the spirit of national pride. From simple alternating stripes of red, white, and blue to intricate designs featuring stars, fireworks, or flag-inspired patterns, the possibilities are endless. Whether you prefer a more subtle accent nail or a full set of red, white, and blue nails, this color palette allows for creativity and versatility. Red, white, and blue nail designs are a stylish way to honor your country or add a patriotic flair to any festive celebration.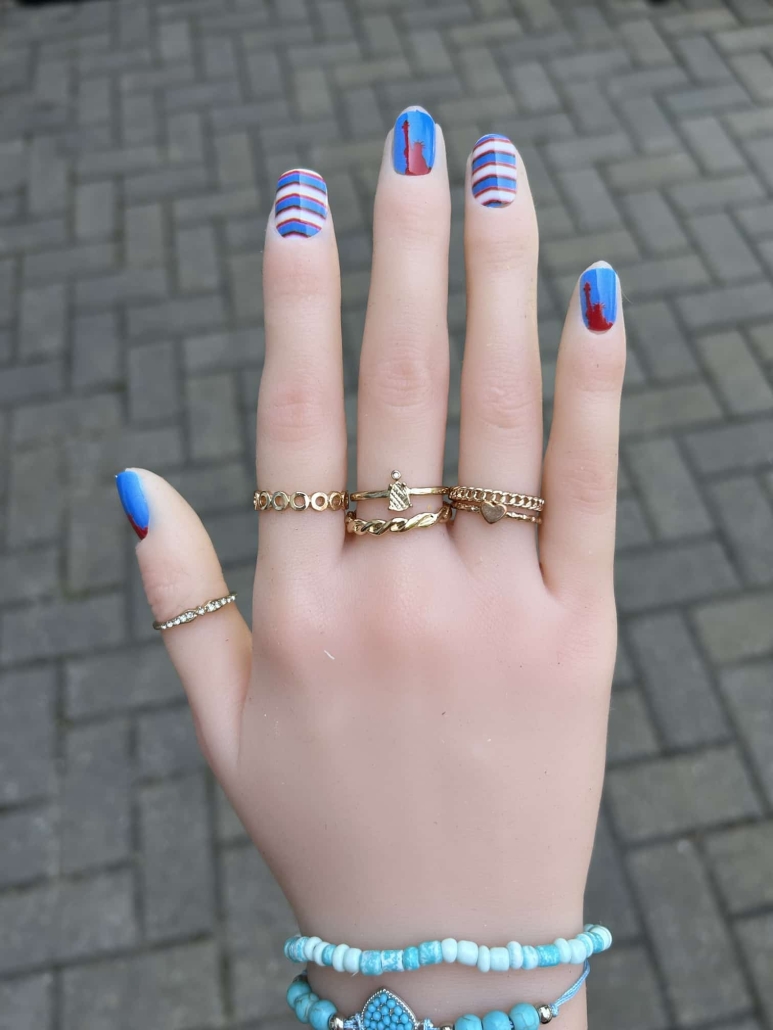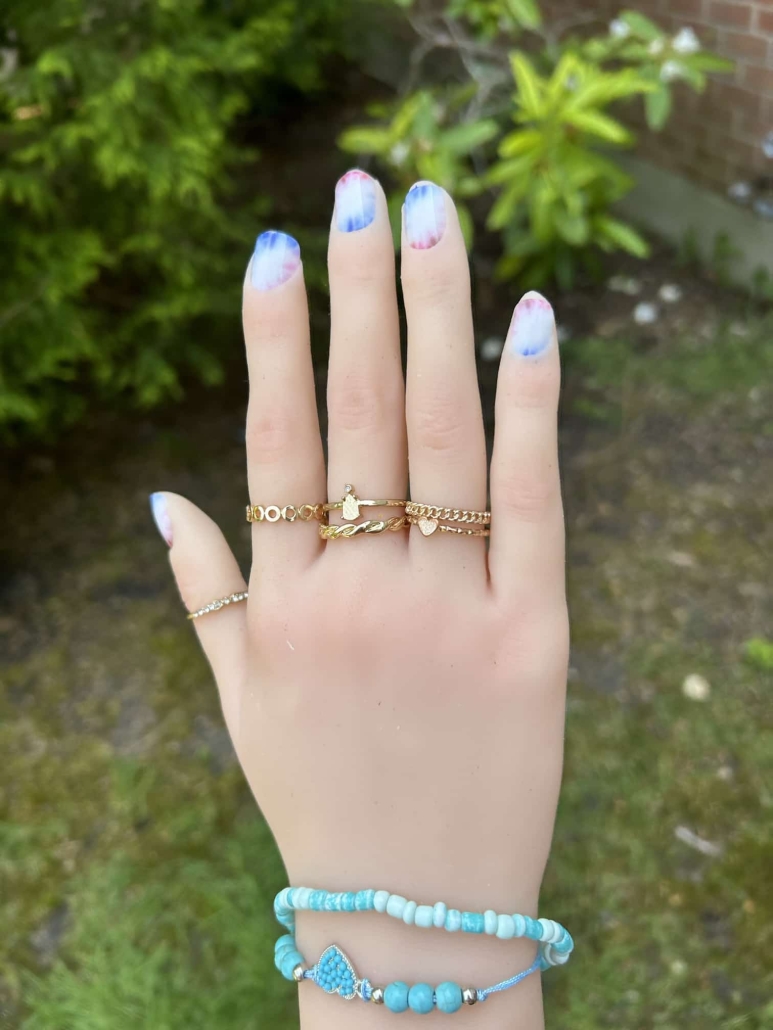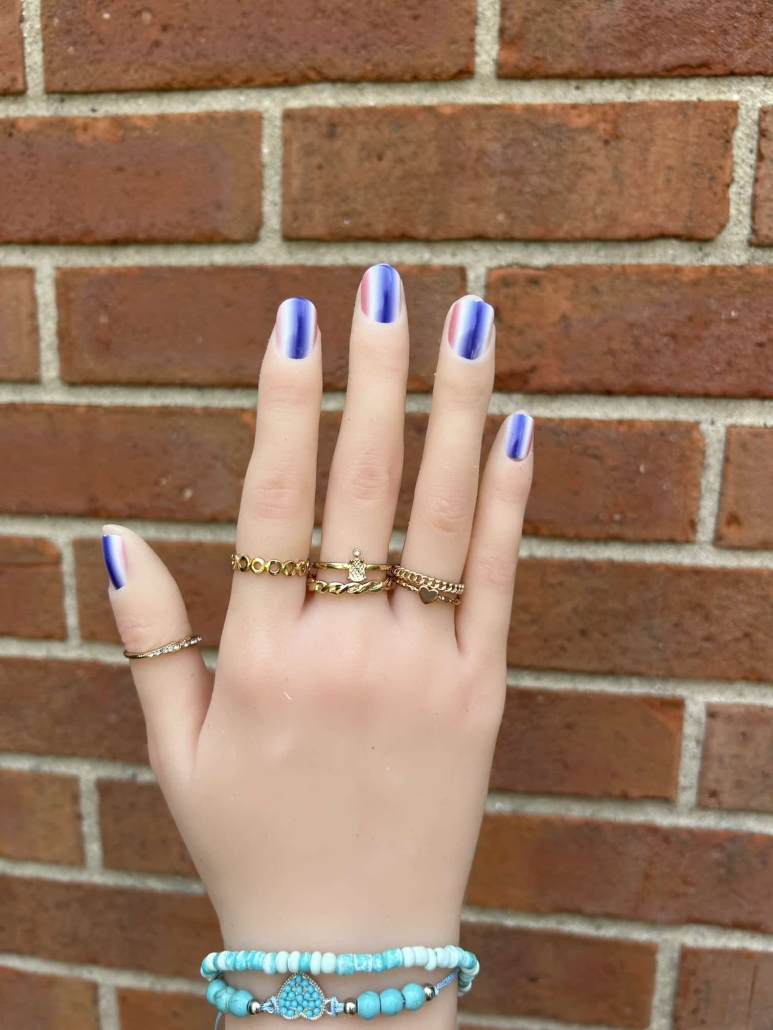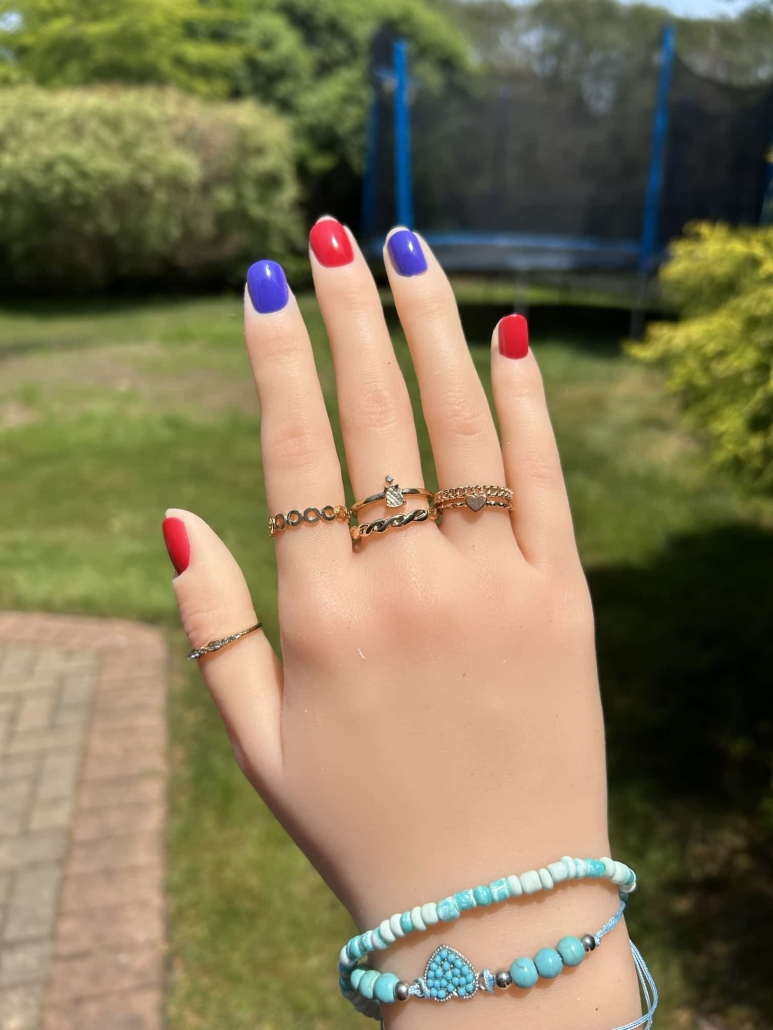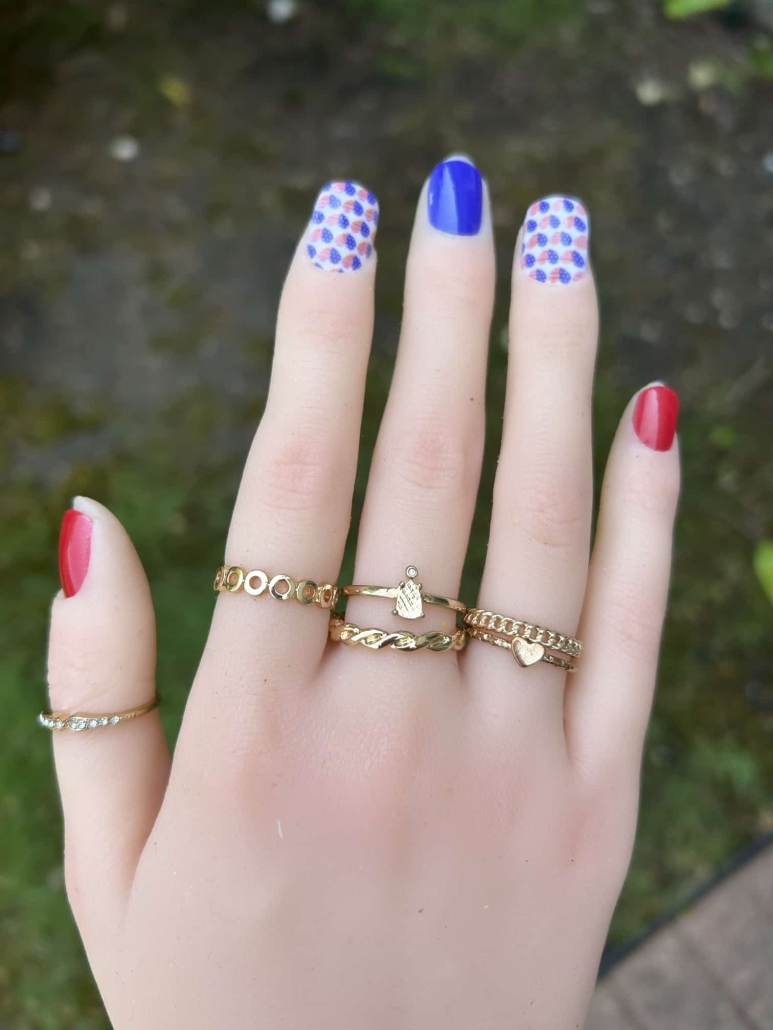 https://vibrantguide.com/wp-content/uploads/2023/06/IMG_2305-compressed.jpeg
2016
1512
Anna
https://vibrantguide.com/wp-content/uploads/2019/01/logo2.png
Anna
2023-06-09 15:40:18
2023-06-09 15:40:18
July Nail Ideas, Designs, Colors